Champagne Taittinger Comtes de Champagne (750ml)
Taittinger is one of Champagne's great houses. It was founded in 1734 by Jacques Fourneaux whose vision grew into the large company it is today.
Taittinger Champagne is characterized by its high proportion of Chardonnay used in the blends. It is this unique style, which has been present since the outset; the style that the tasting panel always scrupulously seek to maintain. The house produces a few styles; both non vintage as well as exceptional vintage dated Champagnes.
In 1952, the Taittinger Champagne House created the Comtes de Champagne Blanc de Blancs – its most exclusive and premium cuvée – in honour of the Comtes de Champagne, a descendant of Charlemagne, Thibault IV, for whom the residence was built in the 13th century in Reims.
Tasting Notes
This vintage Blanc de Blancs is a staff favourite. Pronounced aromas of brioche, white flowers, nuts and vanilla. The palate is full and reminiscent of candied citrus and vanilla custard; fresh and creamy at the same time. A complex and harmonious Champagne that makes any occasion special!
"The colour is pale yellow with silvery glints. The bubbles are exceptionally fine and abundant and form a lively and lasting elegant necklace of mousse. The nose is intensely fine and ethereal, reminiscent of mineral aromas and delicate fragrance of white blossom, with overtones of fresh almonds, vanilla and a subtle hint of pine forests. The first impression on the palate is of extreme freshness, with dominant citrus fruits, lemon zest and grapefruit and a light, beautifully balanced finish." – Robert Parker
Method
The strength and sophistication of the Comtes de Champagne Blanc de Blancs comes from the exceptional conditions found in the Côte des Blancs region. Its slopes are located south of Epernay and dominate the chalky Champagne plain. 95% of its vineyards are planted with Chardonnay vines, whose white grapes create champagne with a light, delicate aroma full of character and vitality.
It is made only with Chardonnay grapes from the Grands Crus of the Côte des Blancs region, including the villages of Avize, Cramant, Chouilly, Mesnil-sur-Oger and Oger, which all have a renowned soil quality for this particular variety in the region.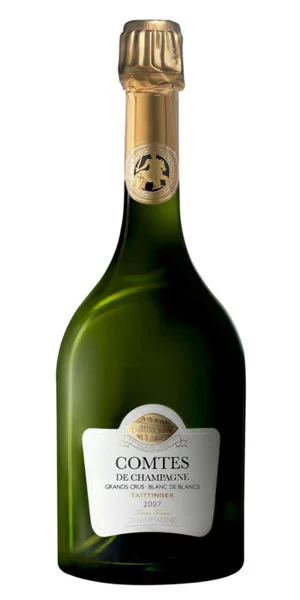 You may also like...