Champagne Taittinger Brut (750ml)
Sub-Region

Montagne de Reims

Grape

ChardonnayPinot MeunierPinot Noir

Farming Method

ConventionalMost products with this label come from producers who do their best to avoid any intervention at all but it's possible that some of the aforementioned preventative measures and additions are deemed necessary. Learn More
Taittinger is one of Champagne's great houses. It was founded in 1734 by Jacques Fourneaux in Reims whose vision grew into the large company it is today. The Taittinger family has managed the Champagne House for nearly a century. Its aim has always been the pursuit of excellence. "Having our family name on a bottle places demands and responsibilities on every minute. The name on the bottle conveys both the skills and knowledge of the past and a commitment to the future". Pierre Emmanuel Taittinger has embodied this commitment for over 40 years. His son, Clovis and his daughter, Vitalie who both worked beside him in the day to day running of the Champagne House made a very close-knit and complementary family trio. As of 2019 Vitalie Taittinger stepped in as the company's president, taking over for her father, Pierre-Emmanuel. Brother Clovis was announced as the new General Manager and the Director of Marketing and Sales worldwide.
With 288 hectares of vines, the Taittinger family is amongst the largest vineyard owners in Champagne. The vineyard is planted to all three Champagne grapes Chardonnay, Pinot Noir, and Pinot Meunier distributed equally across 37 highly-rated vineyards. Taittinger Champagne is characterized by its high proportion of Chardonnay in the blend. The house produces a few styles; both non vintage as well as exceptional vintage dated Champagnes.
Tasting Notes
The brilliant body is golden yellow in colour. The bubbles are fine, while the foam is discreet yet lingering. The nose, very open and expressive, delivers aromas of fruit and brioche. it also gives off the fragrance of peach, white flowers (hawthorn, acacia) and vanilla pod.The entry onto the palate is lively, fresh and in total harmony. This is a delicate wine with flavours of fresh fruit and honey. Taittinger Brut Réserve, which acquires its maturity during three and four years ageing in the cellar, offers excellent aromatic potential.
Method
Taittinger Brut Réserve is a blend of Chardonnay (40%), Pinot Noir and Pinot Meunier (60%) wines from over 35 different vineyards and vintages matured to perfection. This high proportion of Chardonnay, unique among fine non- vintage Champagnes, and a minimum ageing of three years in the cellars, where it reaches the peak of aromatic maturity, makes Taittinger Brut Réserve a delicately balanced champagne, known for its consistently excellent quality all over the world.Taittinger considers it an honour to produce a Brut champagne every year without exception.
Express Shipping!
For select shipping postal codes, this product may be eligible for Express Delivery! Click here to learn more.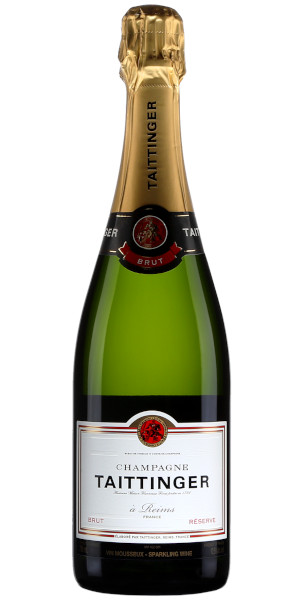 You may also like...