Champagne Pol Roger NV Reserve (750ml)
Sub-Region

Vallée de la Marne

Grape

ChardonnayPinot MeunierPinot Noir

Farming Method

ConventionalMost products with this label come from producers who do their best to avoid any intervention at all but it's possible that some of the aforementioned preventative measures and additions are deemed necessary. Learn More
The Pol Roger Champagne house was founded in 1849 and has been the preferred Champagne of many political greats and royal families over the decades.
The Rogers lived in Aÿ, a village famous for its vineyards, lying at the foot of the Montagne de Reims. Pol Roger was only 18 when, on 2nd January 1849, he made his first sale of wine. Circumstances obliged him to take such an initiative: his father, a notary, contracted an incurable disease and had to give up his practice. The family settled in Épernay, where they built their Champagne business.
Maurice and Georges Roger took over from their father, Pol at the turn of the century. In 1912, Maurice was elected Mayor of Épernay. He acted in an exemplary fashion during the German occupation of the town in 1914 and their family was a part of the resistance. The year 1927, with the arrival of Jacques, Maurice's son, heralded the arrival of a third generation in the firm. In the 40s, he and his wife Odette Pol-Roger, became friends with Winston Churchill. Georges Pol-Roger passed away in 1950, Maurice in 1959. The third and fourth generations came on to run the company and to this day the estate is still family operated.
All the know-how of the Pol Roger Champagne house is exemplified in its ability to reproduce each year a blend which is consistent in style and in quality. Elegant and refined, the cuvée Brut Réserve is the champagne of all occasions.
Tasting Notes
Pol Roger Brut Réserve diplays a beautiful golden straw coloured hue, as well as abundant and fine bubbles. With a powerful and attractive nose, it first delivers aromas of fruit (pear, mango …) and then releases light flavours of honeysuckle and white jasmine, lingering on vanilla and brioche notes. Behind a frank and dynamic attack, the wine encompasses a nice harmony and a pleasant freshness, whilst preserving some structure. On the palate, flavours of cooked fruit (quince jelly, apricot jam) happily mingle with fragrances of beeswax and acacia honey. The long-lasting aromas, composed of both fruity (candied orange peel, tangerine…) and spicy notes (cardamom, anis) is outstanding.
Method
The Brut Réserve is a blend in equal parts of the three champenois grape varieties: Pinot Noir, Pinot Meunier and Chardonnay from 30 different crus. Plus, 25% reserve wines are used to produce this cuvée. 
The Pinot Noir, bringing structure, body and power, is mainly produced from some of the best crus of the Montagne de Reims.  The Pinot Meunier, ensuring freshness, roundness and fruitiness, is issued from several crus from the Vallée de la Marne and the Epernay area.  The Chardonnay, adding its aromatic complexity, finesse, elegance and lightness, comes from Epernay and some of the best crus of the Côte des Blancs. 
After four years ageing in their cellars, this wine's style combines complexity, balance and distinction.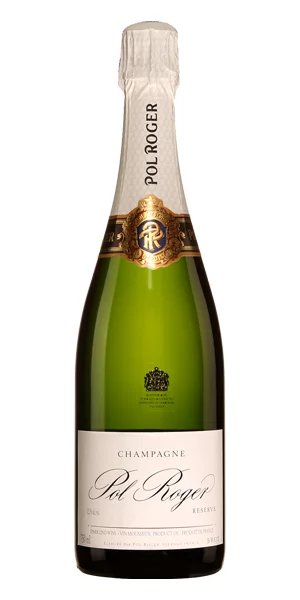 You may also like...
Express Shipping!
For select shipping postal codes, this product may be eligible for Express Delivery! Click here to learn more.