Champagne Pol Roger Reserve (750ml)
The Pol Roger Champagne house was founded in 1849 and has been the preferred Champagne of many political greats and royal families over the decades.
All the know-how of the Pol Roger Champagne house is exemplified in its ability to reproduce each year a blend which is consistent in style and in quality. Elegant and refined, the cuvée Brut Réserve is the champagne of all occasions. The Brut Réserve is a blend in equal parts of the three champenois grape varieties: pinot noir, pinot meunier and chardonnay from 30 different crus. 25% reserve wines are used to produce this cuvée. The Pinot Noir (bringing structure, body and power) is mainly produced from some of the best crus of the Montagne de Reims. The Pinot Meunier (ensuring freshness, roundness and fruitiness) is issued from several crus from the Vallée de la Marne and from the Epernay area. The Chardonnay (adding its aromatic complexity, finesse, elegance and lightness) comes from Epernay and some of the best crus of the Côte des Blancs. After four years ageing in our cellars, its style combines complexity, balance and distinction.
Tasting Notes
Pale straw colour with fine mousse; apple, bread/toast, yeast and citrus aromas; medium bodied and dry; ripe apple, biscuit, mineral and citrus flavours; balanced with long lively finish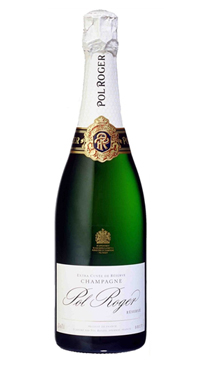 You may also like...