Veuve Clicquot Yellow Label (750ml)
Maison Veuve Clicquot has produced luxury champagnes since 1772. Today, Veuve Clicquot is arguably one of the world's most recognised Champagnes. The Reims-based Champagne house was founded by Philippe Clicquot-Muiron. When he passed away, his wife took over the domaine and revolutionized Champagne production by introducing the technique of remuage (riddling) to work the yeast sediment up along the neck of the bottle where it is eventually removed after the maturation process is complete.
Tasting Notes
The Veuve Brut Yellow Label is a crowd-pleasing favourite! This classic-style Champagne is bright yellow with a foaming necklace of tiny bubbles. The nose is reminiscent of dried apricots, brioche and vanilla pod. There is a fine balance between the fruity aromas coming from the grape varieties and the toasty aromas from ageing in the bottle. The first sip delivers all the freshness and forcefulness so typical of Yellow Label, with a symphony of fruit and creaminess on a long finish.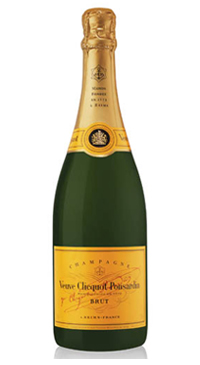 You may also like...