Veuve Clicquot Yellow Label (750ml)
Grape

ChardonnayPinot MeunierPinot Noir

Food Pairing

AperitifCheeseSeafood

Farming Method

ConventionalMost products with this label come from producers who do their best to avoid any intervention at all but it's possible that some of the aforementioned preventative measures and additions are deemed necessary. Learn More
Famous Veuve Clicquot dates as far back as 1772, when Phillippe Clicquot decides to start a wine business with the goal of what he refers to as "crossing borders." 1805 saw the most monumental shift with widow Madame Clicquot taking over the family business and becoming one of the first modern business woman. Her list of accomplishments are long and include: releasing the first recorded vintage champagne in 1805, inventing the first riddling table in 1816, and creating the first "rosé d'assemblage" in 1818 using red grapes from her Bouzy vineyards. Jump to 1986 when the winery was acquired by Louis Vuitton and the rest is history, really.
Tasting Notes
In the glass, a golden-yellow hue with small, tiny bubbles. On the nose, expect fruit like peach, plum, and pear, with some vanilla. On the palate, the fruit and vanilla carry through with some added freshly-baked brioche. Used famously as an aperitif but would work with a variety of cheese boards, and various seafood dishes.
Method
Pinot Noir (50-55%), Pinot Meunier (12-20%), and Chardonnay (28-33%) are found in Veuve's Yellow Label with somewhere between 50-60 different Crus used for the final blend. 30-45% of the wine is made using reserve juice and a minimum of three years of aging is required. 
Express Shipping!
For select shipping postal codes, this product may be eligible for Express Delivery! Click here to learn more.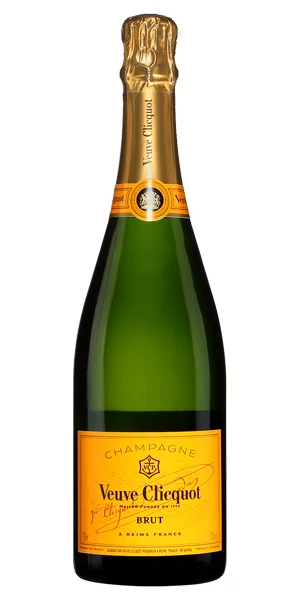 You may also like...