Chateau Guiraud Blanc Sec (750ml)
Grape

Sauvignon BlancSemillon

Food Pairing

CheeseDessert
Known and loved for its Premier Grand Cru Sauternes, the Bordeaux estate, Chateau Guiraud, displays another side of the vineyards potential with their dry white wine. Chateau Guiraud converted to organic viticulture in 1996 and in 2011, it became the first 1st Grand Cru Classé of 1855 to receive its certification for organic agriculture.
Tasting Notes
Fruity and floral, it reveals a lively mouth and flavours of acacia and white fruits. The wine has a lovely balance of bright acidity with a creamy mouthfilling richness. Peach, melon and salted butter notes, the finish hints at macadamia nut. The oak is seamlessly integrated and does in on way distract from the wine's freshness or fruit.
G of Château Guiraud is a dry white wine of Bordeaux Appellation. Its wine reveals a rich expression and a confident personality. It is made from ripe grapes. Its high level of sauvignon blanc firms the style of the property. The G represents the front door into the Château Guiraud brand. – Luc Planty, Director of Chateau Guiraud
Method
Made from Sauvignon Blanc (70%) and Semillon (30%) from vines grown on 80% sandy gravels, 20% clay gravels.  The subsoils are deep translucent sand, pure gravels crossed by red clay and limestone marls, fossilized oyster beds and red and white clay.  The grapes are hand harvested is 6kg baskets baskets and fermented in 80% in oak barrels that have been previously used for making Sauternes. The remaining 20% of the must is fermented in stainless steel tanks. Fermentation lasts for about 3 weeks and undergoes malolactic if  the vintage requires.  The wine then ages for an average of 7 months in barrels with regular lees stirring.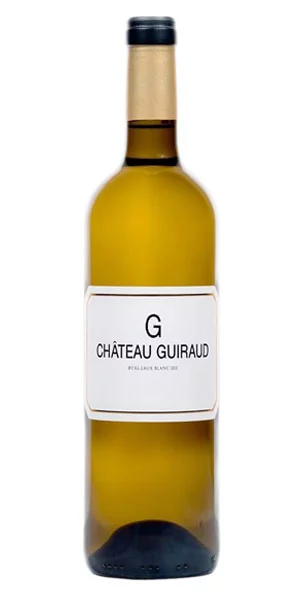 You may also like...