The Church – Salt Water Joys Gose (473ml)
Beer Style

German GoseA light ABV, tart wheat ale that's brewed with coriander and salt for an herbal profile and dry finish. Learn More

Tasting Notes

LightrefreshingTart
The Church Brewing Company started with two brothers originally from Nova Scotia who moved out west. They've since come back home to start up their dream brewery. The Church brews German and Belgian inspired beers in their brewery which used to be an old church. The team worked hard to restore the building and give it a new life as one of Nova Scotia's most unique breweries!
Tasting Notes
A hazy straw colour with a billowy white head. The aroma is intense and complex with extremely tropical fruits, mango, papaya, pineapple, lemon, and lime zest. The flavour is bold fresh mandarin oranges, lemon, pineapple and mango, with a puckering sour zip at the finish. The salty character balances the sweet and sour leaving the desire for another sip.
Method
Church has taken a modern approach to brewing this old world style beer using a lactobacillus blend from Escarpment Labs to sour the beer and then further fermenting with Kveik yeast (pronounced kvike or quake). They added Pink Himalayan Salt to try and mimic the water profile of this German beer.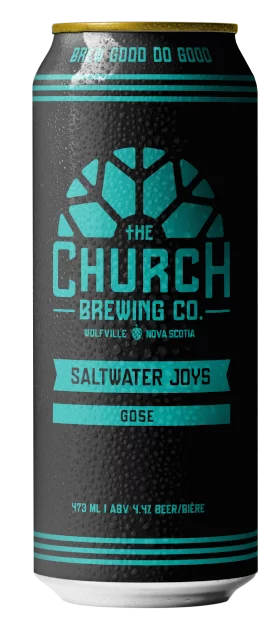 You may also like...