Deloach Heritage Cabernet Sauvignon (750ml)
Farming Method

ConventionalMost products with this label come from producers who do their best to avoid any intervention at all but it's possible that some of the aforementioned preventative measures and additions are deemed necessary. Learn More

Food Pairing

SteakBurgersLamb
As a pioneering producer and winegrower in Sonoma's Russian River Valley, DeLoach Vineyards has been experimenting with and perfecting the best combinations of soil, rootstock, and clones for over three decades. In 2003, the Boisset family brought two generations of sustainable winemaking experience from Burgundy, France to California's Russian River Valley. They planted the vineyards with cover crops in order to revitalize the soil and in the meantime, DeLoach partnered with winegrowers equally dedicated to and passionate about eco-friendly farming practices and the production of high-quality wines.
In 2010, Demeter USA, the only certification agent for Biodynamic® farms in the United States, certified the 17-acre estate vineyard and garden at DeLoach Vineyards, fully compliant with their standards for Demeter Biodynamic status. As one of less than 100 wineries or vineyards in the U.S. with Demeter certified Biodynamic estate vineyards, DeLoach is among an elite group of sustainable wine grape growers committed to farming in parallel with the Earths natural cycles. Wines made from the estate's grapes are organic and biodynamic; some wines in the Deloach portfolio are made from purchased grapes that may not have been grown according to organic / biodynamic standards.
Tasting Notes
Striking dark fruit aromas and enticing notes of mocha carry onto the palate and layer with gratifying flavors of black cherry, cedar and tobacco.
Method
This Cabernet Sauvignon was made from carefully selected Cabernet Sauvignon grapes grown in prestigious, sustainably farmed vineyards across California.  Select lots of Cabernet Sauvignon were blended to develop complexity before being aged in primarily stainless steel tanks. A small portion of the wine was aged in seasoned French and American oak barrels to impart a light oak characteristic while allowing the wine to stay true to its varietal character and retain its approachable, fruit-forward style.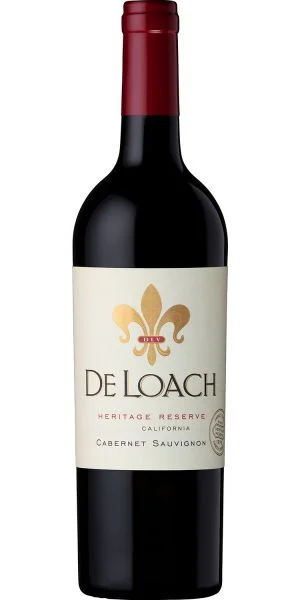 You may also like...