Dönnhoff Kreuznacher Kahlenberg (750ml)
Sub-Region

Kreuznacher Kahlenberg

Farming Method

OrganicAll of our products that are tagged with the term Organic are either organic certified or organic practicing. Learn More

Food Pairing

CheeseGrilled FishSushi
The Dönnhoff family first came to the Nahe region over 200 years ago, and after establishing a modest farm slowly evolved into a full-fledged wine estate. Helmut Dönnhoff has been making the wine since 1971, and now his son Cornelius works alongside in the winery and in their 25 hectares of Erste Lage, or grand cru vineyards. Their holdings represent some of the best in the Nahe and all of Germany.
Tasting Notes
A bouquet of blood orange, grapefruit, citrus peel with wild yeasts and a light smoky note. The palate is crisp and mineral with focused acidity and a long vibrant finish. Enjoy the youthfulness of this wine now or be rewarded after a couple (or many) years in the cellar if you love how Rieslings develop and blossom with bottle age.
Method
Although the Nahe is a dry region, Dönnhoff does not water their vineyards as to encourage deep rooted vines. The soil is covered with organic material like straw and compost to preserve water and to avoid evaporation and erosion in heavy rains. The vines are all grown on wire frames, low to the ground to benefit from the warmth of the stoney topsoil, and at a density of approx. 6000 vines per hectare. Grapes are always picked by hand at Dönnhoff over 2-3 passes through each vineyard.  The Kahlenberg is a warmer vineyard and the grapes are harvested a bit earlier to retain raciness. 
Our Thoughts
There's a reason why sommeliers are all obsessed with Riesling and here's a perfect example of why. Enchantingly aromatic, the wine presents a bouquet of exotic fruits, wild flowers and a pleasing smoky mineral quality. Picture the ripest Granny Smith you've ever had, biting into it, the juices dribbling down your chin… that'll give you some idea of what the palate of this wine has to offer. If you think you don't like Riesling, then this wine would like a word with you.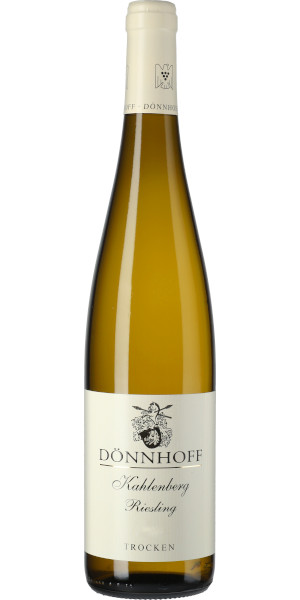 You may also like...