Erdinger – Weissbier (500ml)
Beer Style

German WeissbierThe German-style hefeweizen offers a unique beer experience thanks to the use of wheat malt, unique yeast and its uncharacteristic appearance. Learn More

Tasting Notes

CreamyrefreshingSpicy
Founded in 1886, the Erdinger Brewery – dedicated to the brewing of wheat beer and wheat beer only – resides in the quaint Bavarian town of Erding, 30 minutes northeast of Munich. Erdinger Weissbier pioneered the awareness and consumption of wheat beer outside of the Bavarian region where it has its roots, remaining in strict compliance with the Bavarian purity law and secondary fermentation that have history and tradition in the region. Erdinger Weissbeer continues to be the world's largest producer of wheat beer, and one of the last remaining privately owned breweries, still owned and operated by the Brombach family today.
Tasting Notes
The strength of this classic wheat beer lies in the harmonious balance it achieves between the various aromas. Gently spicy wheat and yeast aromas blend with mildly bitter hops. The invigorating carbonation ensures its typical liveliness. A premium beer whose full-bodied yet elegant character leaves a lasting impression of ultimate Bavarian enjoyment. A truly unique wheat beer!
Method
Erdinger Weissebier is an ale, like all Weissebiers. Brewed with 60% wheat malt which gives all Weissebiers their classic hazy appearance. As well as a specific ale yeast that produces this styles signature banana and clove aromas and flavours. One of Germany's oldest styles that's still being made, truly one of the great beers of summertime – enjoy with brats and kraut for full effect!
Our Thoughts
I have been a huge fan of Erdinger since I became more familiar with German beers and this wheat beer is exemplary of the style; Weißbeer gives you trademark notes of banana and mild clove, while keeping body and texture light on its feet. Just as our notes suggest, pairing with a sausage in a bun and a little sauerkraut will bring these flavours even more to life. Prost!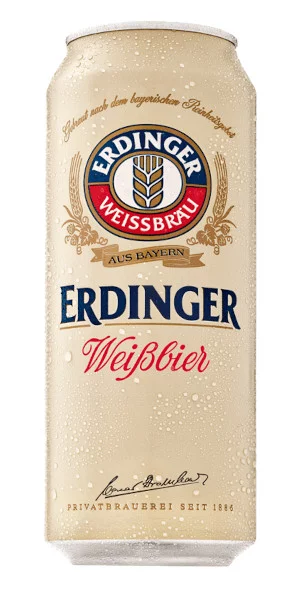 You may also like...