Gachot-Monot Bourgogne Hautes Cotes de Beaune (750ml)
Sub-Region

Hautes Cotes de Beaune

Food Pairing

Pork tenderloinBeefLamb

Farming Method

ConventionalMost products with this label come from producers who do their best to avoid any intervention at all but it's possible that some of the aforementioned preventative measures and additions are deemed necessary. Learn More
Five successive generations have been at the head of this family run estate created around 1890. Situated in Corgoloin on the border of Cote de Nuits and Cote de Beaune, the estate is today managed by Damien and Liselotte Gachot.
The recent history of the domain is highlighted by two women who contributed to the domaine's longevity : Marguerite Monot who ran the vineyard alone from 1950 to 1980 and her only daughter, Marie Therese, who, with the help of her husband Jean Pierre Gachot renovated, replanted and gave their name to the Domaine. After completing his wine studies and with 10 months experience in California, Damien Gachot joined his mother in the domain in 1993 working and shaping the domain to its current form. The wines of Gachot-Monot represent excellent value in Burgundian wines. This fifth-generation vigneron farms twelve hectares in the village of Corgoloin, in between Nuits-Saint-Georges and Beaune. They first came to Kermit's attention via the master of La Tâche himself, Aubert de Villaine and another great Burgundian producer, Bertrand Chevillon. Damien was first saluted by the Hospices de Beaune as a young talent to be watched. Kermit Lynch has been importing his wines since the 2000 vintage.
Tasting Notes
This wine combines ripe red fruit with light earthy tones. Fresh and crunchy red fruit and herbal notes. Overall it is fruity, rich and structured with excellent balance and length. Enjoy 5 to 7 years after bottling. A wine of this style can pair with a range of foods; try it with roast chicken, turkey dinner, rabbit in a creamy mustard sauce, rack of lamb with herbs or creamy, but not too stinky, cheeses.
Method
Made from Pinot Noir vines from the regional appellation of the Hautes Cotes de Beaune.  Though the Cotes be Beaune is more famous for its whites, black grapes are planted here.  The vineyards are situated on the heights of the village of Saint Aubin and the grapes come from a well exposed plot, Les Châtaigniers.  The vines are sustainably farmed and densely planted, pruning, de-budding, and green harvests limit the yields.  All grapes are harvested by hand and 100% destemmed before fermentation in cement tank for anywhere between 10-15 days.  The wine ages in barrel (20-30% of which are new) for up to 18 months before bottling.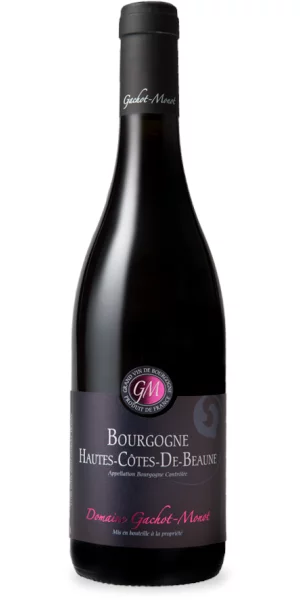 You may also like...