Garrison – Irish Red Ale (473ml)
Beer Style

Irish Red AleFeaturing approachable hop bitterness, this typically amber-coloured ale can often have a medium, candy-like caramel malt sweetness. Learn More

Tasting Notes

MaltyrichSmooth
One of Nova Scotia's first craft brewery's, celebrating their 25th anniversary in 2022 – Garrison Brewing Company located on the Halifax waterfront, follows the rich brewing tradition in Nova Scotia by producing a wide array of flavourful beers for the local market, and nationally. Garrison brews a variety of full flavored, all natural, preservative free ales. Each glass represents a tribute to the art of hand-crafting ales with the finest natural ingredients.
Tasting Notes
Rich aromas of deeply toasted bread, toffee, caramelized malts and very subtle earthy herbal hops all twist together to create a enjoyable beer. The palate features a lot of the same notes as the aromas. Mouthfeel is medium bodied with moderate carbonation and a slightly sticky finish. Best paired with pub fare, and not served too cold – you actually want to taste the beer, right?
Method
This classic beer style was inspired by centuries of Celtic brewing history, Specialty kilned malts such as dark caramel and Munich dominate the Irish Red resulting in a ruby red colour and smooth malty taste. Garrison's Irish Red is the beer that started it all for the brewery. Malt is the star here, in the style of Irish Red Ales.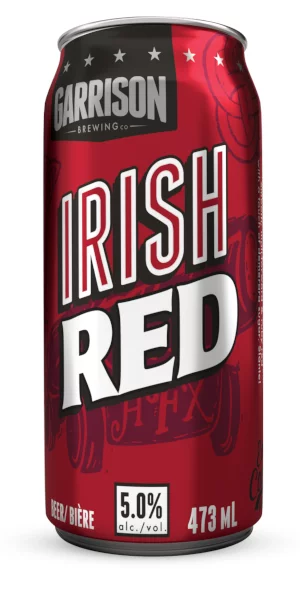 You may also like...