Kilkenny – Irish Cream Ale 4pk (20000ml)
Beer Style

Irish Red AleFeaturing approachable hop bitterness, this typically amber-coloured ale can often have a medium, candy-like caramel malt sweetness. Learn More

Tasting Notes

MaltyrichSmooth
Kilkenny was brewed in St. Francis Abbey Brewery in Kilkenny which was the oldest operating brewery in Ireland from 1710 until its closure in 2013. It is now brewed at St. James's Gate brewery, Dublin. It is served in similar manner to Guinness; fully risen with a head of 3/4 to 1″ approx. The ingredients are water, malted barley, roasted malted barley, hops, and yeast.
Tasting Notes
Pouring brilliant copper with a foamy white head that sustains for a good length of time; the nose is malty and fresh while the palate is creamy with light coffee, raisin, plum and light bitterness on a medium-length finish.
Method
This Irish Cream Ale is unique due to its rich creamy head, the brand delivers a smooth flavourful taste and has 50% less carbonation than regular beers. It tastes smoother, but still retains the full flavoured characteristics of an imported ale.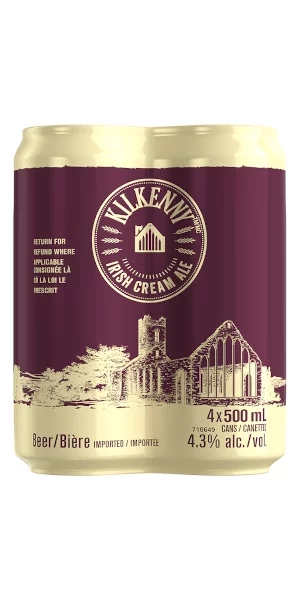 You may also like...
Express Shipping!
For select shipping postal codes, this product may be eligible for Express Delivery! Click here to learn more.