Garrison Juicy DIPA (473ml)
Garrison Brewing Company, located in Halifax, follows the rich brewing tradition in Nova Scotia by producing premium ales of distinction for the local market. Garrison brews a variety of full flavored, all natural, preservative free ales. Each glass represents a tribute to the art of hand-crafting ales with the finest natural ingredients.
Tasting Notes
This Double IPA has aromas citrus, pineapple, mango and stone fruit that lead into a palate full of juicy tropical fruits. The mouthfeel is medium-full bodied, moderate carbonation and finishes with firm bitterness but not so much to make not want another sip.
Method
Juicy is a Double IPA, and the entire concept of a Double IPA is to showcase as much hop character as possible. So Garrison uses a end-of-boil hop bursting cone machine that cycles the beer through a large container packed with hops to create maximum hop effect without picking up the bitter compounds.
8.0% abv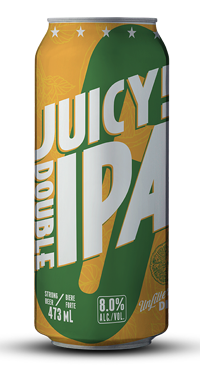 You may also like...