Grand Pre Riesling (750ml)
Food Pairing

Cold SaladsSeafoodSpicy Foods
Domaine de Grand Pré makes polished and elegant Nova Scotian wines. The Domaine is known for its crisp and clean flavour profile and they pride themselves in using only 100 per cent Nova Scotian grown grapes. They grow specialty grapes that were developed for the Nova Scotian climate and landscape and the resulting wines wine awards year after year.
Tasting Notes
There are few varieties that reflect the terroir better than Riesling. This medium sweet white wine exhibits intense pear and citrus fruit aromas such as Bergamot Orange and Lime. Riesling's naturally high acidity and pronounced fruit flavours also lend this wine great potential to age gracefully.
Our Thoughts
Recipient of the Lieutenant Governor's Award for Excellence in Nova Scotia Wines 2017 and gold medal winner at the National Wine Awards of Cananda 2017.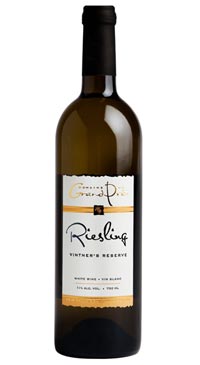 You may also like...