Rolly Gassmann Riesling (750ml)
Food Pairing

CharcuterieSpicy Foods
Marie-Therese and Louis Rolly Gassmann, along with their son Pierre, create wines that are legendary throughout France and Europe. In 1997 they added a biodynamic philosophy to their traditional ongoing approach of minimal interference with the vines, rigorous selection of grapes, and the most careful handling of both harvest and vinification. These techniques lead to the production of wines of the highest quality. Rolly-Gassmann has a unique style, whereas all wines have a certain velvety sweetness. It is only as wines are tasted and deemed appropriately aged that the wines are released to the market, sometimes as many as 20 years after bottling. Pierre Gassmann insists on late harvesting and lengthy cellaring after bottling, creating luscious yet balanced styles. He has an in-depth knowledge of the family estate (a complex mosaic of limestone and marls) and keeps his yields low to promote the precise expression of different terroirs.
Tasting Notes
Lush and ripe notes of pear, honeydew melon and spice combine for an extremely aromatic wine. The aromatics carry over to the flavours on the palate, creating a lush wine with a full mouth feel and slight spice in the finish. Slightly off dry in style, yet the defined acidity creates a lovely balance. This is a wine that impresses in every glass. Will continue to develop over the next 6 years.
Method
Once in the winery, the Riesling is wild yeast fermented in stainless steel tanks with and undergoes short lees contact.  The Gassmann's focus on late harvesting and extended ageing periods before bottling, resulting in wines of texture, balance and character. Their products are characterised by higher residual sugar contents and are well suited to drinking with food.
Our Thoughts
This is a gorgeous wine from a highly respected biodynamic producer in Alsace, France. This Riesling is made in a decidedly off-dry style which is not typical for Alsace, where dry Rieslings are the norm. The husband and wife duo at Rolly Gassmann are known for producing wines with a signature velvety sweetness. Don't let that scare you away — the residual sugar in this wine is well-balanced by high acidity, great fruit concentration, medium alcohol, full body and a very long, satisfying finish. This is a high impact wine with pronounced aromas and flavours of apricot, pear, exotic florals and honey. Liquid gold! -Maureen O'Neill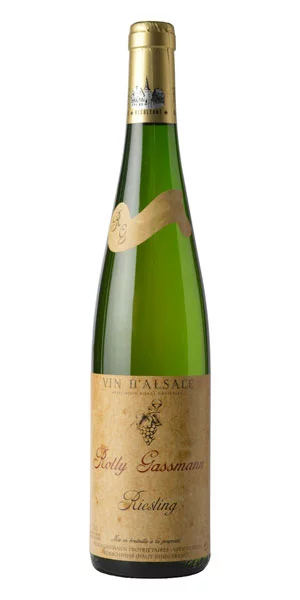 You may also like...