Leaping Horse Cabernet Sauvignon (750ml)
Food Pairing

PorkWarm Vegetable Dishes
Ironstone Vineyards, the producer of Leaping Horse, is known for owning and operating several leading US wine brands. In addition to vineyards in the Sierra Foothills, Ironstone draws on the production from its Lodi appellation vineyards—some 4,500 acres (18 km2) in all.
Born from a love of horses, Leaping Horse is aptly named. The Kautz family have been involved in many generations of riders and are passionate about their equine friends and partners. From an artist rendition to today's look, Leaping Horse is about unpretentious and contemporary wine styles.
Tasting Notes
Leaping Horse Cabernet Sauvignon is a luscious Cabernet with deep red-purple hues and flavors of black currant and cherry with hints of blueberry, eucalyptus and mint with a touch of oak. It's smooth, rich and deliciously drinkable.
Method
The Kautz family has been promoting and working with sustainable viticulture for over 35 years. Crop reduction, leaf removal, organic materials and drip irrigation are used throughout the vineyards to improve the quality and intensity of flavors. Cover crops, which attract beneficial insects are also employed. In addition, owl boxes and wood duck boxes are placed around the vineyards and ponds helping to preserve the surrounding habitats. This Cabernet Sauvignon comes from soils that are sandy loam and well-drained allowing the wonderful ripeness come through to the grapes. 
This wine is a blend of 77% Cabernet Sauvignon, 20% Merlot and 3% Tannat.   The wine ages for 4 months in new French oak.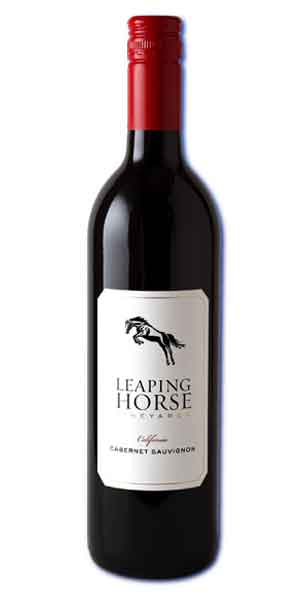 You may also like...