Leitz Eins Zwei ZERO Riesling (750ml)
Food Pairing

SeafoodSpicy FoodsSushi
The Leitz family has a history in winemaking as far back as 1744. In 1985 Johannes Leitz took over the family winery in Rudesheim and has grown the estate from 2.9 hectares to 40 hectares and has gained national and international recognition for his wines all while staying true to his root. He worked closely with the Ministry of Environment to restore traditional terraces above Rudesheim in the Berg Rottland and Berg Kaisersteinfels vineyards. The impressively steep Leitz vineyards are blessed with 100% southern exposure, thus ensuring optimal ripening and good drainage which is needed for these complex and mineral driven wines.
This is a non-alcoholic wine that shines all year round as an alcohol-free companion for every festive occasion.
Tasting Notes
The Leitz EINS-ZWEI-ZERO offers an original character that is clean and fresh with notes of lime and citrus; surprisingly rhubarb and a little hint of red apples on an underlying mineral base. The finish is dry due to the bracing acidity that balances the residual sugar. The wine has a relatively long. Of course, an alcohol-free wine never will give the same depth, structure and weight as a wine with alcohol, but this is extremely close to it and it is simply an alcohol-free wine tasting wine.
Method
Processed in stainless steel. To remove the alcohol from the wine, a gentle vacuum distillation has been used, in order to preserve the natural Riesling flavours.  This method extracts alcohol under extremely low pressure and temperature (around 30°C). No flavours will be lost through the treatment of the wine through the dealcoholisation process. With this method results in a "real" ZERO – 0.0 % vol. Acidity 7.1 g/L and Residual Sugar 38.9 g/L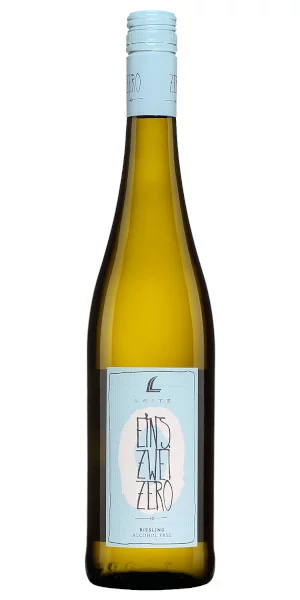 You may also like...