Lindemans Cuvee Rene Beer (750ml)
Southwest of Brussels, in the quiet Belgian town of Vlezenbeek, the Lindemans family has been farming and homebrewing as long as anyone can remember. Commercial brewing started in 1822.
Lambic, or spontaneously fermented beers, are the beers of this region and are among the world's rarest: they are the only beers fermented via wild, airborne yeast – no yeast is added by the brewers. Lambics come only from the Senne River valley, near Brussels – a region about 15 by 75 miles in size. The unusual, demanding, and unique flavors that come from multiple yeast strains are unmatched in the world of beer.
Tasting Notes
Musky tones of unripened fruit, rye, yeast and leather lead into a sour palate of wet hay, yeast and orange zest. Medium bodied, and finishing dry.
Method
This is a classic Gueuze – a blend of 1/3 two year Gueuze, and 2/3 one year Gueuze aged in oak, pouring a golden blonde with thin but persistent head.  This bottle conditioned Gueuze has the quality to be aged for 5-10 years on it's side, sometimes longer with proper cellaring.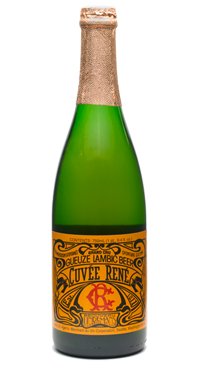 You may also like...