Montes Alpha Carmenere (750ml)
Food Pairing

ChiliBurgersRoast meats
Montes Alpha, the pioneer wine that showed the way to all other Chilean premium wines. It remains # 1 in the Chilean premium wine niche, having proven early on our credibility as a world-class premium wine producer. All our Alpha wines have received 'Top Scoring' and 'Best Value' from the influential Wine Spectator magazine: quite an achievement for Chilean wines at this price level.
Tasting Notes
The intense nose offers pleasing notes of ripe black and red fruits such as blackberries, figs, and dried plums. Spicy notes of nutmeg and black pepper lie over a back of tobacco and leather with a subtle balsamic aroma that envelops aromas of pastry and dark chocolate. The palate is well balanced, lush, and structured, while soft tannins lend the wine a sweet sensation that opens way to a long and very elegant finish.
Method
Colchagua is one of the Chilean wine valleys with the most international prestige, in which Viña Montes was a pioneer in establishing its production. This valley is located in the central zone of Chile, less than two hours driving from its capital, Santiago. Our beautiful vineyards are located in one of the best terroirs in the area, Apalta. Its unique characteristics and location, allow a mild exposure to the sun of the vines, which contributes to a slow, although more complete maturation of the grapes. In the same valley, between the Coastal Range and the sea, are the Marchigüe vineyards, immersed in an undulating landscape that ends in the Pacific Ocean (25 km away), where these red grapes mature slowly under the influence of somewhat colder temperatures.
The Carmenere grapes are harvested by hand and transported to the winery in 300kg containers. Bunches are
manually selected prior to destemming and macerate in fermentation tanks for 5 days, before selected yeasts are added to begin the perfectly controlled fermentation. This lasted for 7–10 days until all the sugars were transformed into alcohol. Next, the wine  was racked into stainless steel or concrete tanks, maintaining the wine at the optimal temperature for malolactic fermentation, which can occur quickly or take up to 20 days. Once this second fermentation finished, the wine was racked into French oak barrels where it remained for 12 months; a proportion remained in concrete tanks waiting to be part of the final blend, prior to bottling.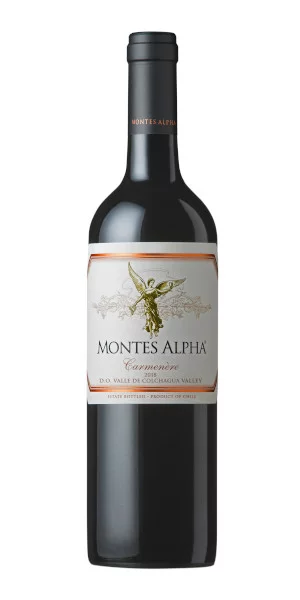 You may also like...