At the early part of the 20th century, after spending six months travelling around India, discovering a new country, a new civilization and new flavors, Pierre, the third generation of Domaine du Coquerel family got back to business school keeping in mind this wonderful experience. He then worked both in France and in the United States where he got the opportunity to taste hundreds of different spirits including Gin of course, which he fell in love with. He later joined the family distillery producing Calvados, Pommeau and Cidre. In 1937 the family started thinking about developing their own signature Gin and found an old family book dated from 1765 called "La Chymie du Goût et de l'Odorat" containing a recipe loved by Louis XV – King of France for a Juniper distillate which was the inspiration for Normindia Gin.
Tasting Notes
This is a fresh, fruity and smooth style of Gin with balanced spice and floral notes. There are 15 botanicals used in its production and their notes waft from the glass; apple, orange, cinnamon, juniper, lily, coriander, clove and ginger are among some of the scents.
Our Thoughts
While France isn't the first place you would think of for gin, there is a rich history of french distilling. The Coquerel family recipe for juniper distillate dates back to 1765. Drawing upon this old recipe, and a recent trip to India for inspiration, Pierre synthesized both old and new, east and west to create Normindia Gin.

Many of the flavours are familiar: woodsy, peppery juniper, fragrant lily and zesty citrus. But there are also some unfamiliar notes: spicy ginger, toasty clove, and green apple tartness. The sum is a seamless and silky gin that is exceptionally complex and refreshing.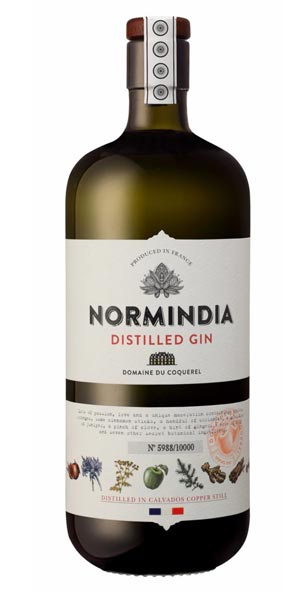 You may also like...