Penfolds Rawson's Retreat Chardonnay (750ml)
Farming Method

ConventionalMost products with this label come from producers who do their best to avoid any intervention at all but it's possible that some of the aforementioned preventative measures and additions are deemed necessary. Learn More

Food Pairing

CheeseChickenShellfish
Without the influence of Penfolds, the modern Australian wine industry would look very different indeed. Sitting comfortably outside of fad and fashion, Penfolds has taken Australian wine to the world on a grand stage and forged a reputation for quality that is without peer.
Penfolds' reputation for making wines of provenance and cellaring potential might suggest a mantle of tradition and formality is the preferred attire of a company with so much history to defend. But to label Penfolds as simply an established and conventional winemaker, would be to confuse tradition with consideration and to overlook the innovative spirit that has driven Penfolds since its foundation, and continues to find expression in modern times.
The Rawson's Retreat range of wines was named after the founder's family cottage which was built in 1845, one year after he planted his first vineyard on the property.
Tasting Notes
A Chardonnay in true South Australian styling: like sunshine in the glass! This wine is perfumed with enticing tropical fruit aromas, endowed with creamy textures and framed by a hint of oak. Forward drinking and affable, Rawson's Retreat is balanced- showcasing good fruit, fine structure and controlled power.
Method
Rawson's Retreat Chardonnay is made from carefully selected fruit grown across southeast Australia.
Australia has approximately 10 per cent of the world's Chardonnay plantings and is the third largest grower of the variety after France and the USA. Chardonnay is Australia's most widely planted white variety and is second only to Shiraz overall. The crush of Chardonnay in Australia has grown from 1000 tonnes in 1979 to a peak of 428,000 tonnes in 2008.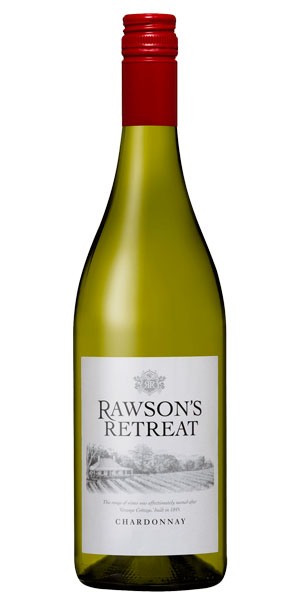 You may also like...
Express Shipping!
For select shipping postal codes, this product may be eligible for Express Delivery! Click here to learn more.