Propeller – India Pale Ale 6pk (2046ml)
Beer Style

West Coast IPAAll about hop flavour, aroma, and bitterness, characterized by floral, fruity, citrus-like, piney or resinous American-variety hops. Learn More

Tasting Notes

BitterCitrusDank
First opening their doors in 1997, Propeller Brewing Company has gone from a small brewery on Gottingen St. brewing a Pale Ale and an Extra Special Bitter to become one of the largest brewery's in Nova Scotia and a driving force in this industry. Owner John Allen has allowed the business to grow and branch into multiple locations and a comprehensive product line that includes beer, ready to drink cocktails, and craft sodas. They have won awards both locally and nationally for a wide array of products and continue to experiment with new styles and old favourites.
Tasting Notes
Aromas of dank grapefruit pith, herbal notes, subtle caramel, and spicy notes that lead into a medium bodied palate with intense hoppy bitter citrus flavours. The mouthfeel is rich and round with a moderately dry finish and assertive hop bitterness. Propeller IPA has been a favourite for staff and customers alike for years.
Method
This West Coast style IPA uses hops that are known for their notes of herbal and citrus notes. Brewed to intentionally be bitter and full of flavour, this IPA is one of Propeller's longest running products and definitely one that helped put them on the map.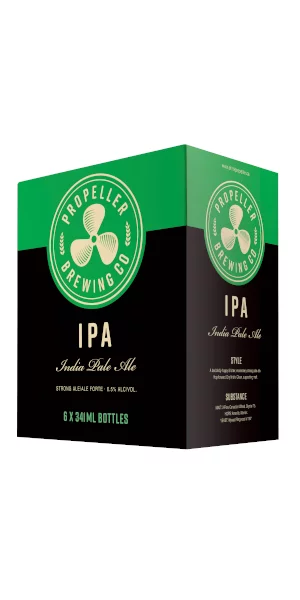 You may also like...
Express Shipping!
For select shipping postal codes, this product may be eligible for Express Delivery! Click here to learn more.