Propeller – Patio Pack Mixer 12pk (4260ml)
Beer Style

Gold BeerSour Beer
One of Nova Scotia's original microbreweries – Propeller Brewing Company, located in Halifax, and now Dartmouth. They produce a wide-range of international award winning all-natural, British and American-style ales and lagers.
Tasting Notes
Guavarama Sour is a tropical taste celebration of juicy guava and fresh-picked berries. Pouring a beautifully soft hazy pink, this fruit beer is refreshingly smooth and finishes with a tang.
Passion Fruit Sour is jam-packed with luscious passion fruit, this sour ale takes you for a mouth-watering ride. Tangy and effortlessly easy drinking with a lively and refreshing finish.
Lime Lite is a thirst-quenching light lager. Infused with real fresh lime for bright citrus aromas and flavours, it finishes crisp, clean, and ultra-refreshing.
Hazy and lush, Tropic Haze surfs waves of juicy mango, passionfruit, and dragonfruit. A refreshing dive into ripe tropical fruit, this golden blonde ale will launch your next summer adventure.
Method
Best served with sunshine, this craft beer mixer contains:
3x355ml Passion Fruit Sour | ABV: 4.5%
3x355ml Guavarama Summer Ale | ABV: 4.8%
3x355ml Tropic Haze Summer Ale | ABV: 5.0%
3x355ml Lime Lite Lager | ABV: 4.5%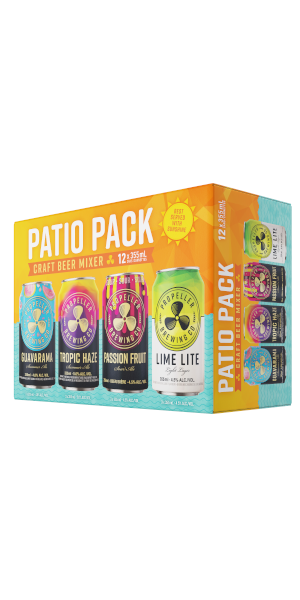 You may also like...