Propeller – Pilsener 6pk (2046ml)
Beer Style

Czech PilsnerCzech Saaz hop is used here; known for higher bittering acids, and intense floral aromas with lots of pepper. Learn More

Tasting Notes

BitterMaltySpicy
First opening their doors in 1997, Propeller Brewing Company has gone from a small brewery on Gottingen St. brewing a Pale Ale and an Extra Special Bitter to become one of the largest brewery's in Nova Scotia and a driving force in this industry. Owner John Allen has allowed the business to grow and branch into multiple locations and a comprehensive product line that includes beer, ready to drink cocktails, and craft sodas. They have won awards both locally and nationally for a wide array of products and continue to experiment with new styles and old favourites.
Tasting Notes
Propeller Bohemian Style Pilsener, is a refreshing brew in the classic lager style of Bohemia. Made with a blend of Canadian and European malts and prized Noble hops, Propeller Bohemian Style Pilsener displays classic Euro-lager characteristics: a distinctive Continental hop aroma, a light malt sweetness and a refreshing bitter finish.
Method
Pilsner is a style of lager that originated in Plzen (pronounced Pilsen), Czechoslovakia in 1842. Prior to that time, most beers were made with top-fermenting yeast and were dark in colour and somewhat hazy. In 1842, an innovative Czech Brewery used a ground-breaking technique of methodical bottom fermenting with a new strain of yeast. The resulting brew, Pilsner, was a refreshing golden and bright beer that has now been adopted by breweries all over the world.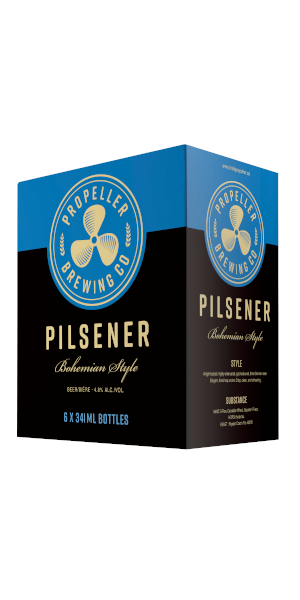 You may also like...
Express Shipping!
For select shipping postal codes, this product may be eligible for Express Delivery! Click here to learn more.