Schoolhouse – Recess Pilsner (473ml)
Beer Style

Czech PilsnerCzech Saaz hop is used here; known for higher bittering acids, and intense floral aromas with lots of pepper. Learn More

Tasting Notes

BitterCrisprefreshing
Schoolhouse brewery was once the smallest brewery in the province, brewing from an old schoolhouse in the valley turned homestead. After a few years the brewery had grown as much as it could in the Falmouth Schoolhouse location, and while it has since been moved, it has the story and character with it. You will now find Schoolhouse Brewery in its new home not far away in beautiful Downtown Windsor. The new location boasts a unique school themed taproom and kitchen as well as a bottle shop, dog friendly patio and of course, the brewery itself.
Tasting Notes
Recess Pilsner from Schoolhouse is a well done Czech-style Pilsner, spicy and floral hops with some light bready aromas lead into a light body, snappy carbonation, and pleasant bitterness that make this a very refreshing beer!
Method
Czech style Pilsners use Saaz hops – known for their floral and spicy character. This Pilsner has lots of solid malt character as well that plays nicely with the hops. Czech Pilsner tends to have more body and a creamier texture with lower hop bitterness as compared to the German Style Pilsner.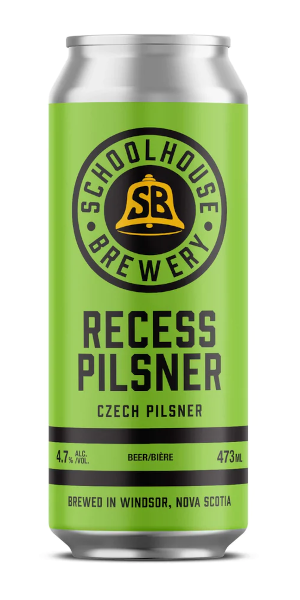 You may also like...
Express Shipping!
For select shipping postal codes, this product may be eligible for Express Delivery! Click here to learn more.