Samuel Smith – Nut Brown Ale (440ml)
Beer Style

Brown AleWhether English or American versions, both offer a toasted nut, chocolate-y character, indicative of brown ales. Learn More

Tasting Notes

BalancednuttySmooth
The Samuel Smith brewery in Tadcaster was founded in 1758 and is Yorkshire's oldest brewery. Samuel Smith is one of the few remaining independent exporting breweries in England and is the last to utilize the classic Yorkshire Square system of fermentation solely in stone (slate) squares.
The rich Samuel Smith strain of yeast at the brewery dates from the early 1900s. Hops are hand-weighed by the master hop blender, and the brewing water is drawn from the original well, sunk over 250 years ago.
Samuel Smith produces over a dozen beers, but they are most known for their ultra-traditional English ales. The Organic Pale Ale, Taddy Porter, Oatmeal Stout, Imperial Stout, and Nut Brown are all considered some of the world's best examples of their styles and are often seen as the benchmark in their categories.
Tasting Notes
Nut Brown Ale is rich with roasted accents, infused with hints of pecan and toffee. Aromas of toasted malt, café au lait, and treacle are front and center, with hints of grassy, earthy English hops occasionally peeking through. There is a delicate interplay among prune, fig, and dark cherry aromas with hoppy notes of marjoram and new mown hay. Malt notes are of sumptuous caramel and brown bread. As the beer warms, you may notice some appetizing light wintergreen hop notes that were dwelling deep in the background. Overall, this beer has a rich concentration of flavours, but it is not a heavy drinking beer.
Often times, darker English Ales are recommended to be consumed at a cool, but not cold temperature.
Method
Brewed with well water from the original well at the Old Brewery, sunk in 1758 and still in use, with the hard well water being drawn from 85 feet underground; best barley malt, yeast and aromatic hops; fermented in 'stone Yorkshire squares' to create a relatively dry ale with rich nutty colour and palate of beech nuts, almonds and walnuts.
Our Thoughts
I have yet to try a beer from Samuel Smith that isn't a perfect example of its style, and this Brown Ale is no exception; a dark, rich (but not too heavy), malt-driven ale that boasts flavours of toasted almonds and caramel. For lovers of English beer, like myself, it seems to conjure up smooth and malt-y nostalgia of a dimly lit pub with the football on, and your side up… life's good.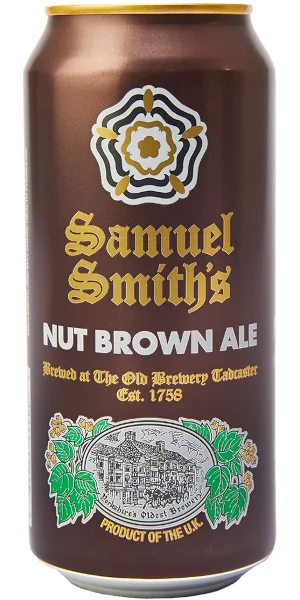 You may also like...