Grape

Cabernet SauvignonMerlotPetit Verdot

Farming Method

ConventionalMost products with this label come from producers who do their best to avoid any intervention at all but it's possible that some of the aforementioned preventative measures and additions are deemed necessary. Learn More

Food Pairing

Aged CheeseSteakLamb
Owned and operated by the four Sichel brothers and one of the brother's two sons, Maison Sichel dates as far back as 1883 when the family moved from Britain to Bordeaux and set up their office; the original location at 19 Quai de Bacalan is where their current headquarters still sits today. At that time, the Sichel family was more concerned with procuring wines for places like Mainz, London, and New York, operating as negociants and wine merchants. Fast forward a couple of decades and the 20th century sees the family acquiring châteaux all over France such as Château Angludet, Château Argadens, and the famous Château Palmer; thus began their journey from wine merchants to winemakers. With expansion to China via the opening of another sales office in 2008, Maison Sichel has certainly made a name for themselves in the winemaking business.
Tasting Notes
An impressively elegant Margaux with impeccable provenance (this is a declassified wine from one of the top Margaux Chateaux). Intense ruby color, pronounced bouquet of spice and black fruits. In the mouth the wine is concentrated, generous without being capricious, very expressive, supported by high quality tannins and a persistent finish. This is an elegant, expressive and polished wine; the product of an exceptional terroir and crafted with great care. A great match for a fine cut of grilled meat or a well-garnished cheese board, but whatever the case over any informal meal.
Method
Situated 25km from Bordeaux, the Margaux appellation covers five municipalities and is the only one in the Médoc where you find the entire, rich and vast range of wines, from the first to the fifth Grand Cru Classé. Margaux wines are particularly supple and refined. They are characterised by very elegant, fruity aromas, making them the benchmark for generous, sophisticated wines with soft ripe tannins.
A blend of 63% Cabernet Sauvignon, 32% Merlot, 5% Petit Verdot.  Mostly hand picked grapes, crushed and destemmed and then put into fermenters.  The juice is heated to 22 °C to allow a quick start to the fermentation. Twice a day, pumping over with aeration takes place in order to extract as much colour and tannin as possible. When the alcoholic fermentation is over, the vats are maintained at a temperature around 30°C for 15 to 21 days.  Malolactic fermentation takes place in vats.  6 to 8 months ageing in French oak barrels with racking every 4 weeks. The wines are fined and filtered with non animal products before bottling.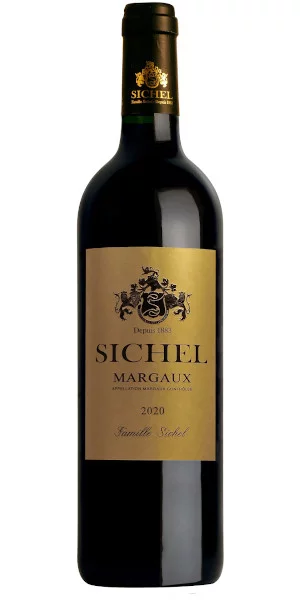 You may also like...
Express Shipping!
For select shipping postal codes, this product may be eligible for Express Delivery! Click here to learn more.