Sichel Sauternes 375ml (375ml)
Food Pairing

CheeseDessert
Ever since it was set up as a buying office in Bordeaux in 1883, Maison Sichel has remained, first and foremost, a family business. Since that time, six generations of the Sichel family have succeeded one another at the company's helm.
Tasting Notes
Sauternes is situated some 40 kilometers south east of Bordeaux, between the Garonne river and the Landes forest to the south, the Sauternes vineyard produces what many wine experts and wine lovers believe to be, quite simply, the best sweet white wine in the world. The 2012 produced a remarkably rich, complex wine. The bouquet is a beguiling combination of jammy fruit, bitter orange, apricot jam with a hint of spice (cloves) and elegant toasty notes. Creamy, with toastiness at every stage of the tasting, the palate is impressively well-balanced and long and offers a touch of fruity freshness at the finish.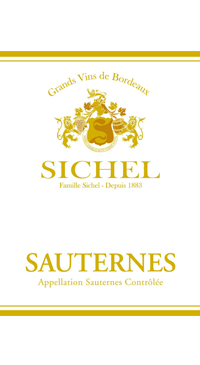 You may also like...