Rombaud Rivesaltes Ambré (500ml)
Region

Languedoc-Roussillon

Grape

Grenache BlancGrenache Gris

Food Pairing

Chocolate cakecrème bruléeCheese
The Domaine de Rombeau has belonged to the La Fabrègue family for several centuries and has kept its identity by keeping the unity of the farm in Rivesaltes. The Domaine de Rombeau is renowned for its traditional Languedoc-Roussillon wines, its organic wines, its natural sweet wines such as Rivesaltes and Muscat de Rivesaltes as well as for its sparkling wines.The Estate is over 300 years old, has 113 hectares of vines, 25 of which are farmed organically.
Nestled in the Agly plain , the Domaine de Rombeau vineyard benefits from exceptional pedoclimatic conditions . The clay-limestone soils rich in pebbles are indeed particularly conducive to the development of the vine . In addition, the presence of shallow water tables allows the grapes to have all the water they need. Finally, the sea wind and the tramontana which regularly sweep the region allow the vines to be kept healthy . It is no coincidence that viticulture was already present on these lands since Roman times.
In addition to the wine- growing , wine- tourism and catering activities that employ 60 people on a daily basis. The family is committed to promoting the local economy as well as helping people through their involvement in associations for various humanitarian actions.
Tasting Notes
This naturally sweet, fortified wine has a resemblance in flavor notes and texture to a tawny port, Madeira, and even some Sherry styles. This is a Rivesaltes ambré; in its youth the style is deep golden-yellow with aromas of nuts and caramelized citrus fruits. With age, golden color deepens and moves towards orange, amber and eventually reddish-brown gaining layers of complexity on the nose and palate. Enjoy this with pastries, macarrons, custards, crème brulée, pound cake, molten chocolate cake…. Equally delicious paired with a cheese plate and nuts for an easy after dinner treat!
Method
Rivesaltes is an appellation for sweet wines of various hues made predominantly from varieties of Grenache (Blanc, Gris and Noir) in Southern France's Languedoc Roussillon area, on the border with Spain.  This "vin doux naturel"  (naturally sweet wine) has been revered since the 14th Century.  Unlike other sweet wines, botrytized wines or ice wines, vins doux naturels are made by "mutage" – a process of arresting fermentation by the addition of a neutral grape spirit (fortification) while there is still a high level of natural sugar present in the juice. The result is a a wine with a high level of residual sugar (a minimum of 45 grams per liter, although often much higher) and alcohol (between 15 %  and 17 % abv). 
Rivesaltes can me made with a variety of grapes; the Ambré style is predominantly Grenache Blanc, Grenache Gris with the possible inclusion of other local grapes.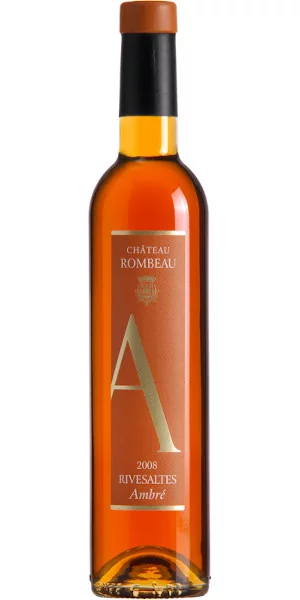 You may also like...