Stiegl – Goldbrau Lager 6pk (1980ml)
Beer Style

Helles LagerHelles is German for light: light in flavour, hop character and the foundation for a lot of the industrial pale lagers that you see all over the world. Learn More

Tasting Notes

BalancedMaltySmooth
Stiegl is a private brewery with centuries of tradition. Sustainability, regionalism, adding local value and, above all, the quality of their beers and services have been the top priorities for 525 years. However, this quality is only possible because they use nothing but the best locally-sourced ingredients. The values Stiegl has been committed to since the brewery was founded have made them the leading private brewery in Austria.
Tasting Notes
Stiegl Goldbrau lager has deep, rich aromas of freshly baked bread, lightly toasted golden malts, and subtle spicy floral notes from the traditional Noble German hops. The palate is very malt driven and silky smooth with a mouthfeel that's both concentrated and crisp. Carbonation is moderate and the finish is long. A real lager for when you'd like something more than just fizzy light beer.
Method
Stiegl-Goldbräu is a traditional Salzburg beer specialty with 12° Plato and Noble hop aroma. It is brewed in the Munich Helles style, known for it's intense displays of malt complexity while remaining endlessly easy drinking. This is the original style that would go on to become the worlds most consumed styles of beer, but a lot of local breweries still make Helles as full flavoured as they should be.
Our Thoughts
Pouring more of an amber gold than your typical Helles, Stiegl hits on so many notes and is sure to please just about anyone; the malt is the star here while still featuring a slight grassy and floral hop character. Picture the crisp crust of a freshly baked baguette leading you into a slight sweetness and silky smooth mouthfeel.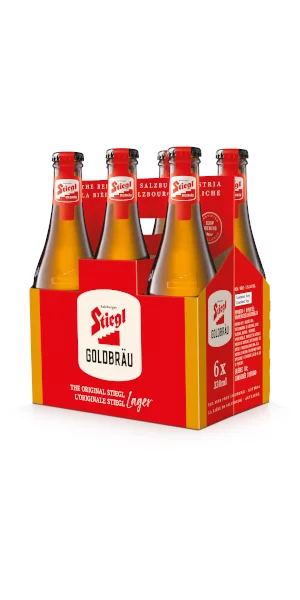 You may also like...