Stillwell Brewing – 10° Czech-Style Pale Lager (473ml)
Beer Style

Czech-Style Pale Lager

Tasting Notes

BitterherbalSpicy
From the folks behind arguably one of the city's best beer bars, brewing and packaging at their new facility on Kempt Rd., Stillwell Brewing made its name fermenting and blending traditional oak-aged farmhouse ales but recently has focused its efforts on crafting staple styles for the home market, beers like Pils, Bitter and Kölsch. Top notch lagers and ales to enjoy with friends, or hog to yourself.
Tasting Notes
Stillwell 10° Czech-style Pale Lager is the brewery's take on the biggest beer-drinking nation's most popular beer: the draught-strength 10° Pale Lager (4% abv). Ultra traditional in ingredients and method, the beer is Stillwell's most refined lager to date: simple and easy to drink with a balance of malt and Saaz hop character, and features gravity-defying foam and a full body despite the low alcohol. Easy to drink is an understatement.
Method
10° Czech-style Pale Lager starts with 100% flood-malted Moravian pils malt that undergoes a double decoction on Stillwell's continental-style brewhouse. Hopping is all Czech Saaz hops, and the yeast used to ferment the beer is a Czech-origin lager yeast from Escarpment Labs in Guelph. The beer takes three full months from grain-to-glass and that extra time comes through in the glass, the beer is the definition of refined.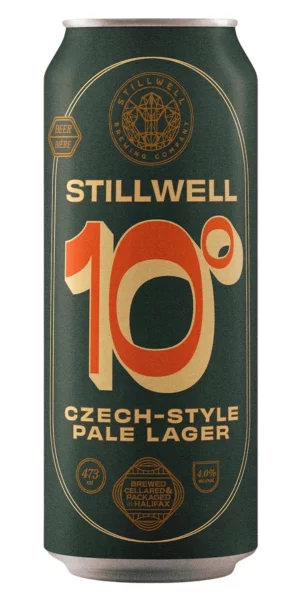 You may also like...
Express Shipping!
For select shipping postal codes, this product may be eligible for Express Delivery! Click here to learn more.