The Glenturret 10 Year Old Peat Smoked (700ml)
Tasting Notes

Baking SpiceBrineCitrus
The earliest record of production at Glenturret is in 1763 which gives them confidence to state that The Glenturret is Scotland's Oldest Working Distillery. Having been visited through the centuries by writers and poets (including Robert Burns) Feted by Primes Ministers and Royalty and home to a long honour roll of skilled distillers, The Glenturret Distillery has long stood proud at the heart of Scotch Whisky.
Tasting Notes
From the distillery: Smoke from the peat fire envelops. Fresh citrus fruit, vanilla, and light spice drift from the embers with hints of sea salt and smouldering heather.
Method
Glenturret is in a position to produce both peated and non-peated spirits at different times of the year from the same small stills.  This has allowed us to craft this mellow, sweet, smoky 10 years old single malt that shows its character off to the full at a strength of 50%.
Our Thoughts
Nose: Smells a bit like spring with a nice fresh green leaf note. Woody, toffee, caramel, toasted marshmallows, and milk chocolate… With the peat you'd think you were having a nice night by the bonfire.
Palate: Like their Triple Wood, this Scotch feels slightly sweet up front; the smoke is perfectly balanced and continues from start to finish in a complimentary way. Zesty citrus and fruit cake on the mid palate, with a nice long finish of chocolate and caramel.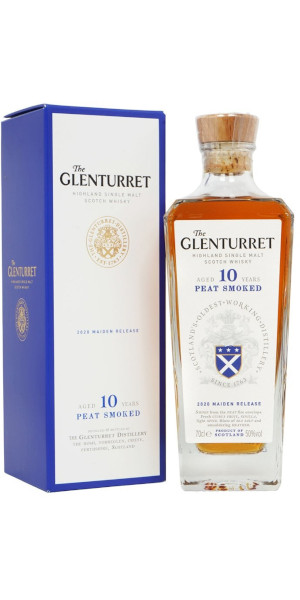 You may also like...