Vieux Telegraphe "La Crau" Chateauneuf-du-Pape (750ml)
Sub-Region

Chateauneuf-du-Pape

Food Pairing

CheeseGameRed Meat
One cannot think of Châteauneuf-du-Pape, the most celebrated cru of the Southern Rhône, without thinking of Domaine du Vieux Télégraphe. The Brunier family is legendary in its own right, having been rooted to the enigmatic plateau known as "La Crau" for over one hundred years. The wines of Vieux Télégraphe evoke the concept of terroir in its purest form: they reflect their dramatic climate, the rough terrain that defines the soil, their full sun exposure at a higher altitude, the typicity of the varietals with an emphasis on Grenache, and of course, the influence of their caretakers, the Brunier family. For many, La Crau is Châteauneuf-du-Pape's grandest cru.
Tasting Notes
65% Grenache Noir, Mourvedre 15%, 15% Syrah, Cinsault, Clairette and other Rhone varietals. Floral and cherry fruit on the nose with cedar, spice, licorice and minerals. The palate is tight and focused that opens up with time to stewed fruits and dark chocolate.
Our Thoughts
The 2013 Châteauneuf du Pape is more focused and tight than the charming Piedlong cuvee and possesses stony, mineral, and salty characteristics as well as notes of red currants, Provençal garrigue and dried pepper. Medium-bodied, firm, moderately concentrated and elegant, it's not the greatest example of this cuvee, but should still have 10-12 years of longevity. Give it a few years in the cellar.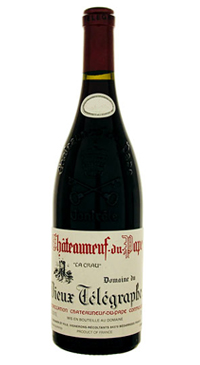 You may also like...