Villa Cafaggio Chianti Classico Riserva (750ml)
Sub-Region

Chianti Classico

Farming Method

ConventionalMost products with this label come from producers who do their best to avoid any intervention at all but it's possible that some of the aforementioned preventative measures and additions are deemed necessary. Learn More

Food Pairing

GamePasta DishesRed Meat
With records that date back to 1408, Villa Cafaggio's estate was then referred to as "Cahago," which means "enclosed, cultivated field." Later in the fifteenth century, there was evidence to suggest that the property was owned by Benedictine monks of Siena. After the monks, the property would have many owners (most notably, the famous Niccolini family of Florence) but one of the more intriguing owners would be the Florentine Hospital of Santa Maria Nuova; it was believed that various fruits and vegetables were farmed during their time of ownership, along with the cultivation and production of grapes for wine and olives for oil. The land would eventually be purchased by the Farkas family in the 1860s and in 1967, the proprietors decided to renovate the wine cellars as well as replant the vineyards and olive groves.
In present day, Villa Cafaggio covers approximately 60 ha, 30 ha dedicated to vineyards and 3 ha for olive groves- the rest of the property is entirely woodlands. Nestled in "Conca d'Oro," which means "golden basin," this area is known as one of the best for producing Chianti Classico. Owned, operated, and managed by La-Vis Group, a financial holding company from Trento, they produce four Chianti Classico wines and two "cru" wines; Cabernet Sauvignon and Merlot, respectfully.
Tasting Notes
In the glass, an intense ruby red colour. The bouquet is dominated by mature fruity notes, reminiscent of black bilberries. It has a full, concentrated and intense flavour. On the palate, there is a very pleasant flavour of mature cherries, which lingers for a long time, with sweet tannins that blend in perfectly with the structure of the wine.
Method
The grapes are destemmed and delicately crushed to minimize damage to the skin, optimizing extraction of the colour and the soft tannins. The alcoholic fermentation takes place in steel vats at controlled temperatures not exceeding 30°C. The micro-oxygenation that fixes the anthocyanins and stabilizes the colour is carried out over many phases of vinification. The wine remains in contact with the skin for 2-3 days. Malolactic fermentation is complete and the wine ages for 22 months in oak barrels followed by 6 months in bottle before release.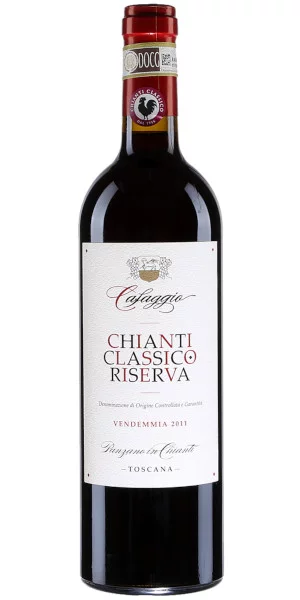 You may also like...
Express Shipping!
For select shipping postal codes, this product may be eligible for Express Delivery! Click here to learn more.