Willibald – Export Lager (Dortmunder) (473ml)
Tasting Notes

FloralMaltyPepper
Founded in 2017, Willibald is a first-generation farm distillery & brewery located outside of Cambridge in Ayr, Ontario. On the farm they strive to create progressive, high quality products that respect tradition but aren't bound by it. They also have a restaurant on the farm serving up seasonally focused food and beverages all year round.
Tasting Notes
Dense aromatics of sourdough bread, freshly baked biscuits, and that unmistakable German hop aroma of lemon-pepper, alpine herbs, and fresh cut grass. The palate is robust, yet extremely smooth and quaffable like all good lagers.
Method
Dortmunder – Do you like German Helles lager but wish it was just a little more hoppy? Or maybe you like Pilsner and say to yourself "gosh this pilsner is great but just a little too hoppy? Well, luckily the Germans created the Dortmunder lager. Originally from the city of Dortmund, this pale golden lager sees a touch more noble German hop character than a Helles lager, but a little less hop character than a Pilsner. 
Willibald Brewery made a 6.5% abv Dortmunder Lager, and added some nice Noble German hops for aromatics. The beer was also lagered for 8 weeks at cold temperatures to ensure an ultra crisp and dry finish, and it was also packaged with natural carbonation for an elegant texture.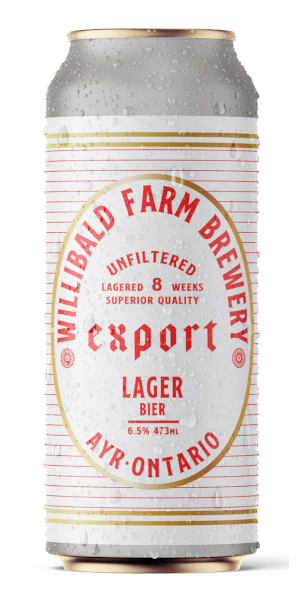 You may also like...
Express Shipping!
For select shipping postal codes, this product may be eligible for Express Delivery! Click here to learn more.