We're thrilled to welcome fresh new wines from Austria's Weingut Sepp Moser to our shop this June!
The Moser family is one of Austria's viticultural dynasties. Sepp Moser founded today's estate in 1987 with vineyards in the Austrian wine-growing areas Kremstal and Neusiedlersee. He ambitiously dedicated himself to creating exquisite wines full of character from best sites. Sepp's son Nikolaus took over the estate in 2000- quickly becoming one of the first wine-growers in Austria to convert his vineyards to biodynamics.
As many of you may know, our Bishop's Cellar team takes a hands-on and collaborative approach to selecting the wines that line our store's shelves. When I asked my colleague Jason MacLeod about how these wines found their way to Halifax, he shared that they had been on our radar for a couple years but we were looking for the right time to bring them to the market. From Jason: "The wines of Sepp Moser first caught my eye three years ago when I was doing preliminary research for a wine show. Since then, I've had the opportunity to meet Nikolas Moser and his daughter Kathi on three different occasions to taste their portfolio. This lovely family produces delicious, food-friendly biodynamic wines that you are going to want to share as badly as I do."
Last month, I had the chance to connect with Kathi Moser from the winery to learn more about this family-owned operation. Kathi manages the export of the family's wines and alongside her father Nikolaus, Niki for short, she works to support customers. Together, they travel to wine shows and to visit partners around the world. As they are a smaller producer, you will unsurprisingly find her in working in the cellar and the vineyards, too. Kathi and her sister, who also works with the winery, are the 17th generation in their family working with wine!
The rise of Austrian Wine
Austria has a long tradition in viticulture and winemaking, going back more than 2000 years. The wines of Austria are small but mighty on the world scene- super aromatic, brightly textured, and terroir-driven wines that beautifully express the agrarian beauty of this small landlocked country. As a fan of super aromatic, mineral-driven wines I am, personally, really excited to have more wines from this region available here in Halifax.
Kathi explained to me that, in the past, nearly every small farming family in the rural areas of eastern Austria had vineyards, in addition to their staple crops and animals. Due to that, the winery structures are still very small and most of the wineries in Austria remain family-run businesses. Finally, many of the wineries work organically with over 15% of the viticultural organizations are fully certified.
Warm, sunny days and cool nights offer the country's signature grape Gruner Veltliner its characteristic intense aromas and flavours of citrus fruit, green pepper, and cracked white pepper. This grape makes a very zingy and fresh style, where flavours pop in the mouth. Most styles are dry, and even when there is some residual sugar, many tasters won't even notice due to the wine's high acidity. The wines we've brought in from Sepp Moser also include a rose wine made from Austrian grape Zweigelt.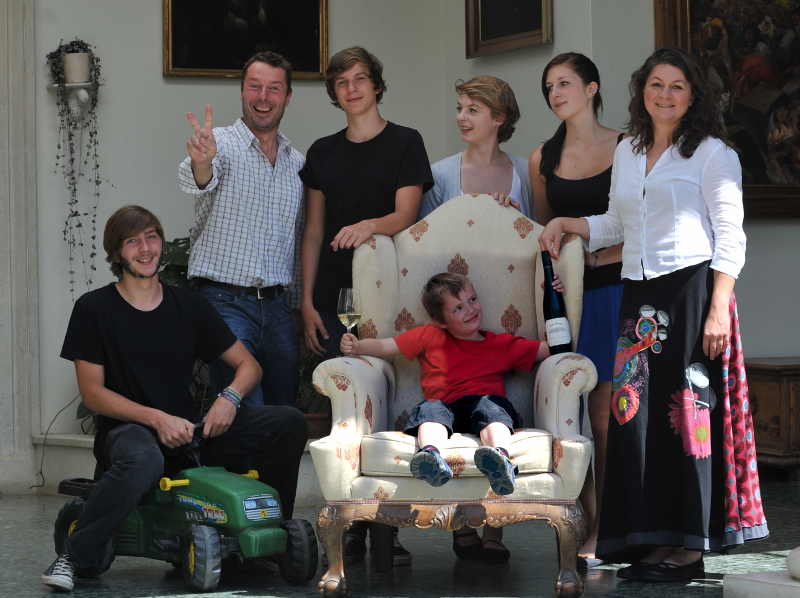 Photo: From the Moser family photo album: Niki is on the far left, giving the peace sign. Thanks to Kathi Moser (centre) for sharing all the photos that accompany this post.
In the vineyard
Weingut Sepp Moser produces wine that are organic and biodynamic, made within a natural winemaking philosophy. This manner of growing and producing has formed the foundation of the family's approach to winemaking.
From Kathi; "When Niki took over the winery from his father, he converted to biodynamic production under Demeter certification. We make pure wines with minimalistic interference. All the wines are fermented spontaneously and our way of winemaking is pretty simple. The most important factor for us is the grape quality. In the cellar as well as in the vineyards we try to see the whole picture, rather than trusting only analytical parameters."
She also shared that their biodynamic approach in the vineyard helped them to mitigate the hot and dry conditions last year in Austria. One of the main issues for viticulture last year was that the sugar levels were shooting up, while acidity was dropping fast. At the same time, the vines didn't have enough time to accomplish physiological ripeness. In their vineyards, the biodynamic preparations helped to balance the vines and give ripening impulses. The result? In the end their grapes had better physiological maturity, kept alcohol levels in check, and left no underripe or green aromas, despite 2018 being one of the earliest harvests ever.
Available in Halifax
For Kathi, and the rest of her family, the work is ultimately worth it when people truly love the product that they've ushered into the world. She says: "The most satisfying situations for me are when you see how much pleasure our wines give to the people – when you watch them tasting our wines and they suddenly stop talking and you see just this little smile in their face."
Fellow Nova Scotians, we can't wait to see what you think of these wines! Here's what we've ordered for you, they'll be available in store or online this Friday, June 7th 2019. Don't forget to leave a review on the products once you've had a chance to try them.
Sepp Moser Classic Gruner Veltliner- $24
Sepp Moser Gruner Fundamental- $38
Sepp Moser Gruner Veltliner Ried Gebling- $40