Bishop's Cellar has been fortunate to have access to some top quality Chablis over the years. One of our current producers we are happy to have on our shelves is Domaine Roland Lavantureux. These wines showcase the special quality of the terroir Chablisienne.
The Lavantureux wine story began in the 1960s with Marine and Germain Lavantureux. The couple began selling wines they made from their domaine in small, 132 litre oak barrels called "feuilettes" in Auxerre and Paris.
In 1979 their son Roland urged them to bottle their wine. Roland, after which the estate was then named, worked with his wife Brigitte and his parents to expand the domaine from 5 hectares to 20 hectares and they continued to develop the business in France and abroad.
Since 2010, Roland's sons Arnaud and David have continued the winemaking legacy. They made improvements in the cellar, expanded their vineyards holdings in Chablis, and even acquired a family domaine on their maternal grandmother's side in another area of Burgundy.
The wines of Lavantureux express the terroir Chablisienne. They exhibit a lovely tension between mouthwatering acidity and richness. The Chablis region's unique soils; limestone and clay dotted with tiny, fossilized oyster shells contribute to the perceived chalky "minerality" in the wines. Roland's sons continue to make precise and complex wines from the Chardonnay grape; the wines are racy and mineral driven with lots of concentration and though they are easily drinkable now, their Premier Cru and Grand Cru wines gain even more complexity with bottle age.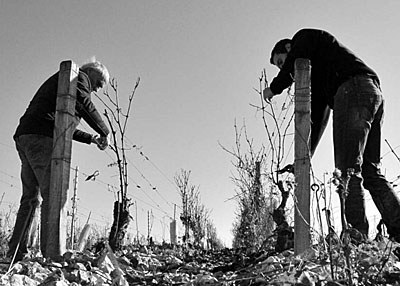 Photo description: This black and white photo depicts David and Arnaud Lavantureux working in their vineyard to prune dormant vines by hand.
How do these wines differ from Chardonnay made in other parts of the world?
Did you know that the name Chablis has been mis-appropriated by wine producers all over the world. While Chardonnay can grow anywhere, and one can make a good wine from it, you can only make Chablis in Chablis! In the book The Sommelier's Atlas of Taste, master sommelier Rajat Parr states, "Chablis's ubiquity makes it easy to forget what's amazing about it – namely, that it's one of the greatest demonstrations of terroir on the planet." He continues to say that Chablis happens to be the only place, where Chardonnay needs nothing – no bubbles, no lees stirring, no new oak, no reduction – to be absolutely captivating.
Chablis is a cool climate wine growing area located at the northernmost tip of Burgundy, where the Serein river flows through the appellation creating two low valleys. This widespread vineyard area of close to 13500 acres under vine is split into village level wines (64%), Premier Cru (16%) and Grand Cru (2%). The rest is designated as Petit Chablis. The Grand Cru appellation is a privileged slope on the right bank of the river, divided into seven parts AKA the 7 Grand Cru appellations. We tend to think of the Crus as individual vineyards, but they really are all connected. The characteristic soil of Grand Cru Chablis and Premier Cru Chablis is the Kimmeridgian marl composed of clay and limestone. It is said that the richest, fleshiest, and most complex wines come from this soil. The wines of Chablis and Petite Chablis come from a similar, but slightly different soil; it is a younger, harder soil from the Portlandian era containing more limestone and less clay.
It is evident that soil distinguishes the wines of Chablis from other Chardonnays. Within Chablis, then, most of the differences between wines are due to exposure and slope, which refers to where the vines are planted on the hill.
Lavantureux wines on our shelves
Two recent wine arrivals at Bishop's Cellar are the Lavantureux Fourchaume Premier Cru and the Chablis Grand Cru Bougros. These wines really show the influence of terroir and how soil, site, exposure and a gentle touch in winemaking shines through in the final wine. A great wine is a wine that points to the place from which it comes.
The Premier Cru Fourchaume site is large, about 4.5km in length, so it can be hard to characterize. Generally the wines have a fresh floral note and round palate, austere, powerful and dense and are age worthy.
The Grand Crus Bougros is a prized south facing, low sloping Grand Cru site. The wines are full bodied, supple and combine ripe fleshy fruit with intense minerality and a slight rustic character.
All Chablis Grand Cru is cellar worthy, if you can keep yourself from drinking them of course! Shop our Chablis section here.