Tasting Notes

herbalsweetCola
The Meletti Family has been producing extraordinary hand crafted cordials for generations. Silvio Meletti started the company in 1870 when he endeavored to produce an anise-flavored liqueur that would rival or surpass the best products of Italy and France. In truth, this pursuit goes back even further as Silvio quit school to help his mother in the production of her homemade anise liqueur (a best seller in her small shop) in order to provide for his struggling family.
Silvio pored over Italian and French essays to develop the optimal methods of harvesting and extracting the flavours from various regional herbs, fruits, and flowers and these approaches are still used today by the Meletti family. Silvio's extremely thorough dedication to his craft lives on in his notebooks as well as the many products still produced five generations later by the Meletti family according to his exacting standards and innovative methods.
Tasting Notes
Amaro Meletti is rich and deep with sweet caramel, cola spices, and a distinctly floral high note balanced by just the right amount of herbaceous bitterness. It is traditionally served neat after a meal to aid digestion but that harmony of sweetness and bitter complexity makes it a versatile cocktail ingredient as well.
Try it with soda and a lemon garnish for something light and easy before dinner. If you're looking for a more robust drink, substitute some Amaro Meletti for sweet vermouth in a Manhattan or Negroni for a cocktail you can savour slowly.
Method
Many of the ingredients used in Amaro Meletti are sourced from the Marche region from growers who work exclusively with the family but this amaro contains ingredients from all over the globe as well. Known botanicals include anise, clove, gentian, orange peel, saffron, and violets.
The method of cold-extraction known as percolation is used to preserve the delicate flavours and aromas. An assortment of ingredients are placed in the upper section of the still and alcohol flavoured with additional ingredients is pumped over and through it. This is repeated continuously until the Amaro is ready to be filtered and bottled.
Our Thoughts
Bursting with botanicals, most notably are the bitter orange, clove, and saffron used. Rich and bittersweet notes of caramelized orange and cola are ever present on the nose and palate. What you might not notice is gentian; it's a bitter root commonly found in liqueurs and is great in aiding digestion and a wide range of other ailments.

Try it as a substitute for Campari in a Boulevardier.
• 1 oz Amaro Meletti
• 1 oz Redemption Rye
• 1 oz Dolin Red

Stir all ingredients with ice until we'll chilled, strain into a rocks glass with a large ice cube and serve with an orange twist.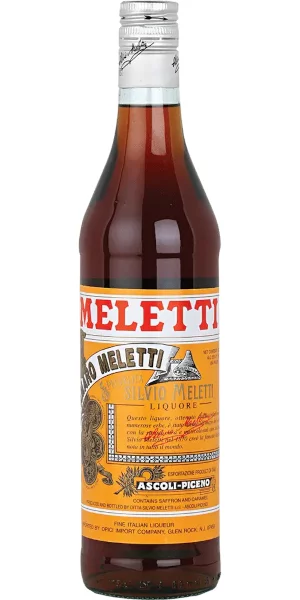 You may also like...