Ayinger – Brau Weisse Wheat Beer (500ml)
Beer Style

German WeissbierThe German-style hefeweizen offers a unique beer experience thanks to the use of wheat malt, unique yeast and its uncharacteristic appearance. Learn More

Tasting Notes

ComplexrefreshingSweet Spice
Ayinger Brewery has a long-standing reputation for excellence in beer and hospitality. Although Ayinger was founded in a picturesque village 25 kilometers from Munich in 1878, the site of the Ayinger Gasthaus Brewery Hotel has been one of Bavaria's most famous restaurants for more than 500 years.
In the shadow of the Alps, nestled in the 1200 year-old village of Aying (pronounced eye-ing), Brauerei Aying produces 12 different styles of beers, more than most of the larger German breweries. The Ayinger Brewery has been owned and operated by the same family since 1878 and represents one of the most pleasant and interesting small breweries which are typical of Europe. Brewing good beer is the premier duty of Aying, and people come from all over the world to sample the brews.
Tasting Notes
Pale color, and hazy with a huge rocky head. Flavours and aromas show the characteristic Ayinger elegance and perfect balance. Finishes with a subtle spicy, fruity note from a traditional Bavarian weissbier yeast strain – known to produce notes of ripe banana, and clove spice. Along with citrus, and orange blossom notes.
Method
Brewed with 60% wheat malt which gives all Weissebiers their classic hazy appearance. As well as a specific ale yeast that produces this styles signature banana and clove aromas and flavours.
Ayinger Brau Weisse has always been one of the lighter German wheat beers we bring in, it doesn't have as much caramelized character as Erdinger, Rittmayer, Paulaner, etc.
Our Thoughts
Considered a lighter style but still with plenty going on, it's often called "German Champagne." With its rich white head; beautiful pale and hazy body, there's lots of banana and spicy clove notes on the nose and palate; this might be the perfect example of a German Hefeweizen. While writing this, I was eating a delicious soft pretzel and there may have been slightly too much garlic on my own pretzel but I can think of no better pairing to enjoy the taste of Bavaria in your own home.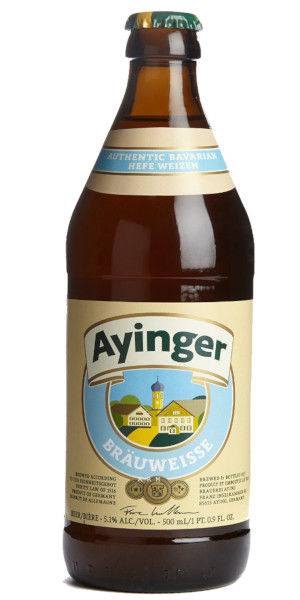 You may also like...