Banished – Space Puffin New England IPA (473ml)
Beer Style

New England IPALeans heavily on late, dry hopping techniques to deliver a bursting juicy, tropical hop experience. Learn More

Tasting Notes

FruityJuicySmooth
After any iterations and countless hours of planning, Banished Brewing opened their doors in early 2022 and have quickly established themselves as one of Newfoundland's most sought-after breweries. Their goal is to contribute to and enhance the craft beer community, create products that will evolve with their education and abilities, build a brand focused on quality, represent the arts, and have as much fun as possible along the way. With quality recipes, and label artwork done by Halifax's own Paul Hammond, these delicious beers will impress both your eyes and palate.
Tasting Notes
Citrus forward aromatics that lead into a smooth palate with hints of apricot, stone fruits, and mango. The mouthfeel is juicy, with low bitterness and just a touch of caramel on the back end. A lovely, well rounded New England IPA!
Method
Emphasising hop aroma and flavour without bracing bitterness, the New England IPA  leans heavily on late and dry hopping techniques to deliver a bursting juicy, tropical hop experience. The skillful balance of technique and ingredient selection, often including the addition of wheat or oats, lends an alluring haze to this popular take on the American IPA.
Puffins, originally from space, have graced the shores of Newfoundland for millennia. Banished dedicates this beautifully orange NEIPA to their travels.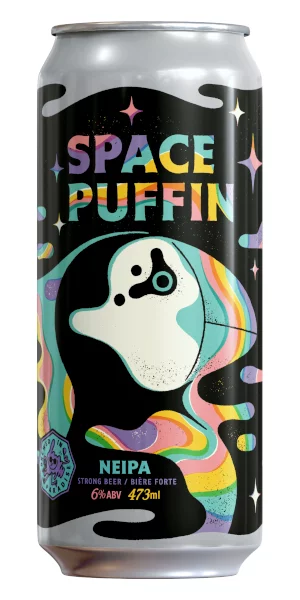 You may also like...
Express Shipping!
For select shipping postal codes, this product may be eligible for Express Delivery! Click here to learn more.