Barone di Valforte Pecorino (750ml)
Food Pairing

ChickenSeafoodSushi
The vineyards of Tenute Barone di Valforte have belonged to the Sorrrichio family since the 14th century; today, their estate encompasses 300 ha- 52 of which are dedicated to vineyards, in the Abruzzo region. Their focus has been cultivating grapes indigenous to the region- Montepulciano d'Abruzzo, Trebbiano, Pecorino, and Passerina. With this, the winery has also made sustainable practices a focal point, implementing processes in accordance with what they refer to as an 'organic agricultural system.'
Barone di Valforte is currently managed by brothers Francesco, Guido, and Guido's daughter Annamaria. Nestled in between Gran Sasso and the Mariella mountains, these three have taken it upon themselves to keep up the rich tradition of their land and family's heritage.
Tasting Notes
On the nose, delicate floral notes of blossoms and white flowers. The palate is fresh and minerally, with zingy citrus notes and a firm, saline backbone. Pecorino pairs perfectly with raw seafood, firm, white fish dishes, and chicken with a light, cream sauce.
Method
Made from 100% Pecorino, the grapes come from Piomba and Colle Sale- grown at 150-350 m above sea level. The soil is mostly calcareous, with the grapes harvested at the end of September. Protective winemaking is implemented to ensure all thee fresh, fruit aromatics and characteristics remain present.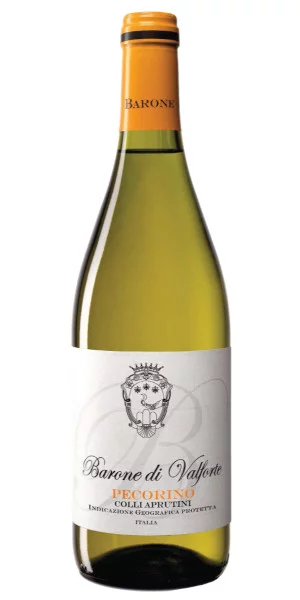 You may also like...