Bouchon Reserva Cabernet Sauvignon (750ml)
Farming Method

OrganicAll of our products that are tagged with the term Organic are either organic certified or organic practicing. Learn More

Food Pairing

BBQBeefBurgers
Bouchon Family Vineyards' history began with an adventurous young French man's dream almost a century and a half ago. Emile Bouchon left his little home of small winegrowers in Arveyres, near Burdeos, France, to board on a ship, towards Chile in the spring of 1887. Emile came hired as a winemaker adviser and throughout many years of efforts, he was able to purchase an antique wine cellar in Colchagua Valley, turning it into one of the most prominent vineyards of that time. His children and eventually his grandson would continue his legacy. His grandson Julio studied enology in Bordeaux and expanded the Bouchon project. He fell in love with the granitic soils in the interior dry area in Maule Valley, acquiring Mingre state in 1977, a distant property, which had old dry farmed vineyards.
Today the winery is operated by the fourth generation of the Bouchon family and a team of expert viticulturalists and winemakers working on continued innovation in the vineyards and winery. They are in the process of acquiring organic certification for their vineyards and wines, though some of their vineyards are currently certified organic.
Tasting Notes
Aromas of ripe red and dark berry fruit on the nose layered with spices, peppers, dried herbs and sweet tobacco. Lots of fruit on the palate with a voluminous mouthfeel and soft tannins. A smooth, polished and easy drinking Cabernet Sauvignon that would pair well with grilled meats and strong cheeses.
Method
100% Cabernet Sauvignon grapes sourced from Bouchon's Santa Rosa vineyard located 54 Kms from the Pacific Ocean at 61 meters above sea level.  Santa Rosa has 90 planted hectares of Cabernet Sauvignon. Vines are grown on vertical trellises and drip-watered. This growing area has a temperate, Mediterranean climate affected by the sea breezes that come up from the Pacific via the Maule River, which contributes to a slow, balanced maturation process, thereby preserving the aromas of the grape.  Santa Rosa has alluvial soils, due to its proximity to the Maule River, intermingled with clay horizons, combination that creates wines with a velvet structure in palate and fresh aromas.
The grapes are mechanically harvested and fermented in stainless steel for about 12 days.  After fermentation, 50% of the wine rests for 6 months in French oak barrels. 
Our Thoughts
The J.Bouchon Reserva line is produced using select grapes from their vineyards at Santa Rosa. The Cabernet Reserva has intense dark fruit notes of blackberry and cherry on the nose. The fruit carries over on the palate and is accompanied with a herbaceous peppery finish. Full bodied with elegant tannins. This Cabernet drinks well above its price point.
Express Shipping!
For select shipping postal codes, this product may be eligible for Express Delivery! Click here to learn more.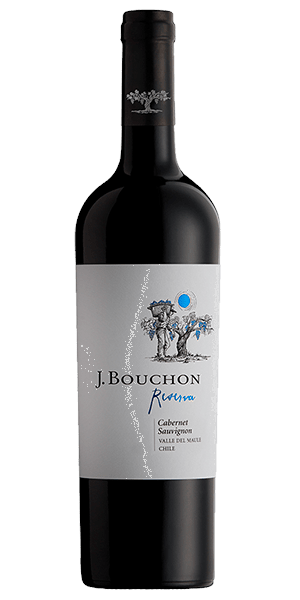 You may also like...