Coldstream – Grape Vodka Soda 6pk (2130ml)
Tasting Notes

Dryrefreshingpurple grape drink
Coldstream Clear Distillery is a family owned and operated spirits producer in central Nova Scotia. The family tradition of distilling dates back to 1749 when Mr. Simon Giffin moved from Northern Ireland to Halifax to practice his trade as a distiller. Simon's grave is located just a few blocks from the Bishops Cellar retail store in the Old Burying Ground on Barrington Street. The fascinating process of fermenting and distilling quality spirits has been picked up by the family more than 9 generations later. Today's products include a unique handcrafted line of rum, vodka, and liqueurs which focus on exceptional taste while making use of an abundance of local ingredients.
Tasting Notes
Just like cracking a can of sparkling grape juice, only with vodka! Coldstream Grape has easy-going aromas of grape juice and drinks refreshing as can be! Dry and crisp, with no sugar lets you enjoy this product all day long.
Method
This is an all-natural, unsweetened vodka soda beverage with a hint of nostalgic grape juice flavour. Made with all natural ingredients, zero grams of sugar, and naturally gluten free. It makes for an refreshing clean tasting drink in a convenient can format.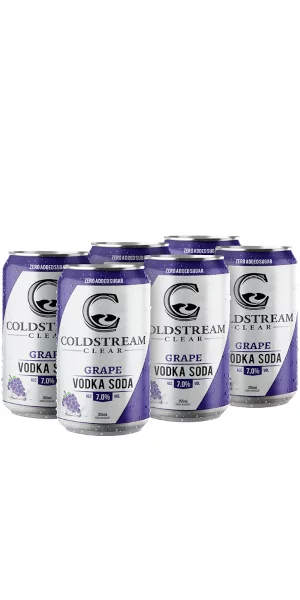 You may also like...
Express Shipping!
For select shipping postal codes, this product may be eligible for Express Delivery! Click here to learn more.