Triple Bogey – Transfusion Cocktail (355ml)
Tasting Notes

ginger aleJuicySmooth
Founded in 2014 by Geoff Tait (the guy who brought you Quagmire Golf) and wife Megan, the Triple Bogey Brewing Company has come a long way since cracking and crushing that very first can. Headquartered in Toronto and brewed in London Ontario, Triple Bogey is locally concentrated but with demand at an all-time high has established distribution partners across Canada and begun to find the fairways (and more friends) in B.C., Alberta, Saskatchewan, Manitoba, and now Nova Scotia!

Tasting Notes
Golf's iconic cocktail. Hugely popular at Country Club's across the United States. A refreshing mix of Vodka, Ginger Ale, and Grape Juice in this flavourful concoction. Crisp, clean, and uber smooth this tasty beverage is as fit for the fairways as it is for the patios. A great anytime refresher.
Method
Triple Bogey Brewing Company introduces a modern spin on the Country Club classic. The Transfusion is said to have been the favourite of, and perhaps even invented by, retired U.S President Dwight D. Eisenhower, who sipped transfusions after daily rounds at California's Eldorado Country Club and Augusta National in Georgia. Today transfusions are enjoyed just about everywhere golf is played and who better than Triple Bogey to spin up a refreshing version for Canada.
Vodka, Grape Juice, and Ginger Ale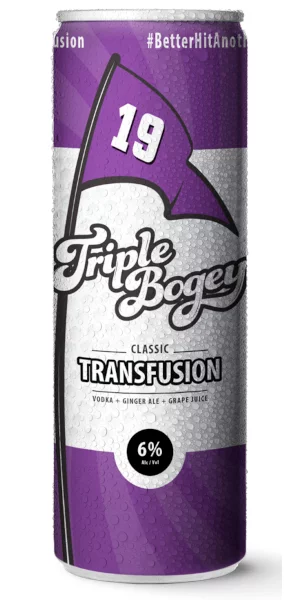 You may also like...
Express Shipping!
For select shipping postal codes, this product may be eligible for Express Delivery! Click here to learn more.