Compass Distillers Gin Royal (750ml)
Spirit Category

Flavoured Gin

Tasting Notes

Floralhoneysweet
​​Founded by the concept of creating amazing spirits from locally-sourced ingredients, Compass began production in July 2017, with only the highest of standards and quality in mind. Shortly after, the cocktail bar & tasting room followed, opening that October. Locally-sourced botanicals, like juniper, cucumber, butterfly pea flower and ginger, create a striking palette within their gin recipes.
Tasting Notes
Aromas of juniper, peppery spices, coriander and citrus zest. Hints of orange liqueur, lemon and honey with lightly perfumed floral notes. The palate shows juniper, coriander, violet and honey with a warming spicy finish.
Method
This royal blue gin is a tribute to the work of the pollinators who allow us to create spirits like gin. More than half of the botanicals used to make gin are pollinated by bees. Gin Royal is distilled with Nova Scotian wheat and classic gin botanicals. Slightly sweetened with royal jelly & local honey, this gin derives its regal colour from an infusion of butterfly pea blossom. Enjoy with your favourite tonic for an exceptional experience.
One dollar from each bottle sold will be donated to the Nova Scotia Beekeepers Association to help in their efforts to protect the bees.
Our Thoughts
Warm honey, blueberry jam, floral, and orange zest.
Medium-bodied and viscous, ever so slightly sweet with more orange zest coming through on the palate.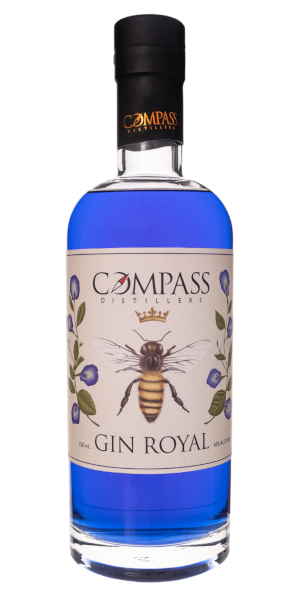 You may also like...