Farming Method

ConventionalMost products with this label come from producers who do their best to avoid any intervention at all but it's possible that some of the aforementioned preventative measures and additions are deemed necessary. Learn More

Food Pairing

smoked salmonSwiss CheeseAperitif
Croft is one of the most distinguished of all Port houses. Founded in 1588, it is the oldest firm still active today as a Port wine producer. The company is a family run winery renowned above all for its Vintage Ports as well as for its range of wood aged reserves and tawnies, time-honoured styles refined by skill and experience passed down through the generations.
In spite of its rich heritage and history spanning over four centuries, Croft has never been constrained by tradition. Behind every great wine producer is a great vineyard. The cornerstone of Croft's distinctive house style is the famous Quinta da Roêda, described as the jewel of Port wine estates. The wines of this magnificent property, which contains some of the oldest vineyards in the Douro Valley, are the heart of Croft's Vintage Port blend.
Tasting Notes
The nose is pronounced with aromas of tree fruit and hints of honey and oak. The off dry palate is full with a velvety texture and a long finish. White Port makes a great aperitif; serve it chilled or pour over ice and top with tonic and fresh mint during the warmer months.
Method
This white Port is a blend of wines produced from white grapes grown mainly on the Upper slopes of the Douro Valley. The grapes used include the Arinto, Boal, Esgana Cão, Folgasão, Gouveio, Viosinho and Rabigato. The individual wines are aged in oak vats for about three years, where they acquire mellowness and character. They are blended to produce a rich white port in the traditional smooth, full bodied style that is bottled for immediate drinking.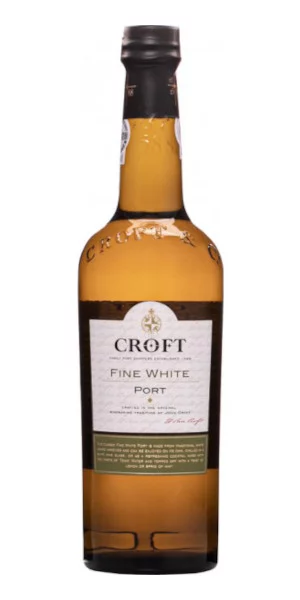 You may also like...