Domaine de Reuilly Les Pierres Plates (750ml)
Food Pairing

AperitifCold SaladsSeafood
Reuilly is an appellation in the eastern Loire Valley. In 1935 Denis Jamain's grandfather planted the first vines in the region along with farming the large oak forest on the edge of town. The domaine began with two hectares of vines and has grown to 17 hectares. Denis continues in the family tradition of grape growing and farms seventeen hectares in the heart of the appellation, with eleven planted to Sauvignon Blanc, four planted to Pinot Noir, and two planted to Pinot Gris, which makes his superb and distinctive Reuilly rosé. The entire domaine received organic status in 2011.
Tasting Notes
Pale vibrant yellow in the glass. Teh nose is ver y clean and fresh with pronounced green fruit, citrus white pepper and lily. The palate is dry with lively acidity, lime pith and even a hint of peach. There is a pleasing mineral salinity that carries through to the finish. This wine would be perfect with ceviche, fish tacos and salads with fresh goat cheese.
Method
The village of Reuilly shares the same Kimmeridgian limestone found in Chablis and Sancerre – making it an excellent source of cool, mineral Sauvignon Blanc. The name of this wine refers to these large, flat slabs of fossil-containing limestone regularly found in the vineyard, and which give the wine its chalky mouthfeel. Denis Jamain's Reuilly can rival even the best Sancerre, at a fraction of the price. This wine is made entirely in steel, giving a grassy, citrus-driven wine with a mouth-watering finish. 
Our Thoughts
Reuilly is in Sauvignon Blanc territory, an ancient winemaking village that today has only about 300 acres in vines. Our bottling, Pierres Plates, is from a specific vineyard with Chablis-like soil full of chalk, fossils and sea shells. Try to imagine Sancerre grown at Chablis. The fruit is lively, with white flower perfumes, citrus and minerality. It has finesse and precision. – Kermit Lynch

If you want to experience what I mean when I say minerality, notice the first impression on the palate, which is of fresh, cushiony, Sancerre-like Sauvignon Blanc. Then, immediately, there is a firmness, a stony firmness that appears from within the wine. Let's call it Terroir to the Rescue, because a wine with nothing but pure fruit seems banal.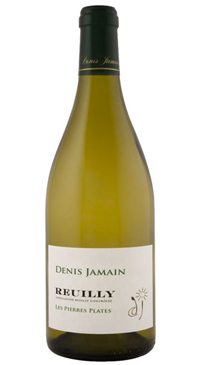 You may also like...