Familia Bastida Paraje de Titos (750ml)
Food Pairing

BBQPorkRed Meat
Paraje de Titos is produced from Garnacha grapes that have been grown in estate vineyards. The soil consists of a mixture of clay and sand with a high concentration of limestone and many small stones. The stones help to retain the moisture in the soil during the long dry summer season. The grapes are harvested by hand and fermented with indigenous yeast. Paraje de Titos is aged for eleven months in American and French oak casks and two months in the bottle before release.
Tasting Notes
High quality Garnacha grapes provide pronounced fresh aromatics. Mature blueberries and plums, fleshy palate with round sweet tannins and generous fruit and spice with a perfect balance of acidity. You can serve this slightly chilled with flavourful meat dishes.
Our Thoughts
Classic warm climate Grenache, the nose is intense and shows blueberries, plum, and a bit of tertiary characteristics like leather and tobacco. The palate is chewy and spicy with lots of elegant fruit and rustic tannins. Don't overthink this wine, just chill it down a bit and enjoy.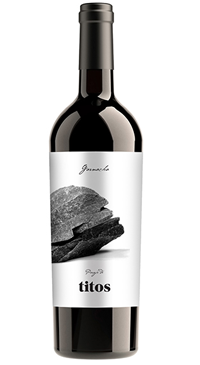 You may also like...