Feudo di Santa Tresa Frappato (750ml)
Food Pairing

Pasta DishesSeafoodSpicy Foods
Brother and sister Stefano and Marina Girelli, wine entrepreneurs from Trentino, discovered the winemaking region of Sicily and purchased Santa Tresa in 2001.
Santa Tresa (Sicilian dialect for Santa Teresa) is nestled in Vittoria, in the south east of Sicily; their estate encompasses 50 ha of land, 39 ha dedicated to vineyards. When the winery and properties were acquired in 2001, indigenous clones of Frappato, Nero d'Avola, and Grillo were discovered, planted across the existing vineyards. Aside from the abundance of indigenous varieties they already cultivate, an organic, experimental vineyard is used to rediscover other indigenous grapes, with their traditional vines. Within this experimental plot, Albanello and Orisi are grown- ancient varietals that date back to nearly the beginning of winemaking in the region. More recently, the winery has decide to source all their water from a local reservoir, using only natural rainwater for any irrigation. On top of that, green beans are grown and used to make natural fertilizer.
Tasting Notes
The bouquet is fresh and lively, reminiscent of wild strawberries and delicate sweet spices. The palate is smooth and long, with hints of spice. The acidity races through the wine, lifting the fruit and releasing a whole variety of fruit flavours in the mouth.
Method
Hand harvested in September and made from 100% Frappato, fermentation takes place in Slovenian oak. Cold maceration on the skins happens for 8-10 days, and the juice is aged in French oak barriques (15% new) for one year. The wine is aged in bottle for two additional months prior to release. It contains 1.9 g/L of residual sugar.
Our Thoughts
The Fuedo di Santa Tresa Frappato is easily my most recommended red in the store. Light in body but full in flavour, the wine is bursting with strawberry and cherry fruit flavours, as well as savory spices and notes of cured meat and game. Its fresh acidity and light body make it uniquely versatile for food pairing – this wine loves burgers, charcuterie, and even fish dishes like tuna. The key is to treat it like a rose and drink it fridge-cold: trust me on this one. Sustainably crafted with organic fruit, an indigenous Sicilian grape variety, at an affordable price – what's not to love? This wine absolutely slaps.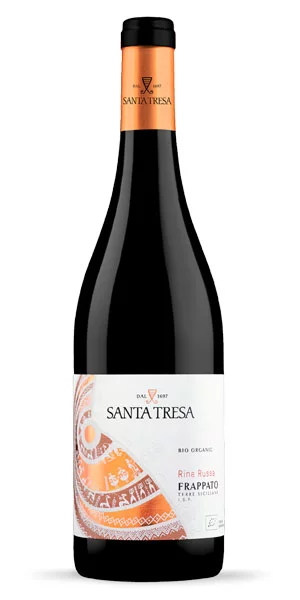 You may also like...