GlenAllachie 12 YO Speyside (700ml)
The GlenAllachie Distillery was one of the few post-war distilleries designed by William Delmé-Evans and focused on using gravity-fed methods to reduce energy requirements. The distillery was built in 1967 and began its first production run in 1968. For most of its life, the GlenAllachie Distillery was a production distillery used to produce large quantities of malt whisky for use in blends like Chivas Regal and Clan Campbell. It wasn't until the 1990s that the distillery saw its first official bottling.
In 2017, a team headed up by Master Distiller, Billy Walker (notorious for changing the fortunes of BenRiach and Glendronach), formed the GlenAllachie Distillers Company and purchased the GlenAllachie Distillery from Pernod Ricard. The distillery came with the added benefit of a warehouse full of old single malt dating back as far as the 1970s to blend with. With over 100 years of combined experience in the industry, this team sought to usher in a new era for GlenAllachie by leaning into the rich fruit-forward character of the distillery.
Tasting Notes
The Glenallachie 12 brings all the expected notes of stewed plums, milk chocolate, nougat and cereal grains to the table with an elegant touch. Beyond the obvious fruit notes, there lurks some beeswax, browned butter, and gentle spices that echo on the long silky finish.
Method
Since being taken over in 2017, the Glenallachie distillery has greatly reduced their production capacity and extended the fermentation of their wash to a whopping 160 hours (industry standard being half that or less). This extended fermentation period allows the formation of more esters and consequently a significantly more complex and fruity spirit. The spirit is distilled in relatively short and spherically-shaped copper pot stills that produce full and rich new make spirit. In order to further enhance these characteristics, the Glenallachie 12 year old is matured in a combination of carefully-selected virgin oak, oloroso sherry, and pedro ximenez sherry barrels.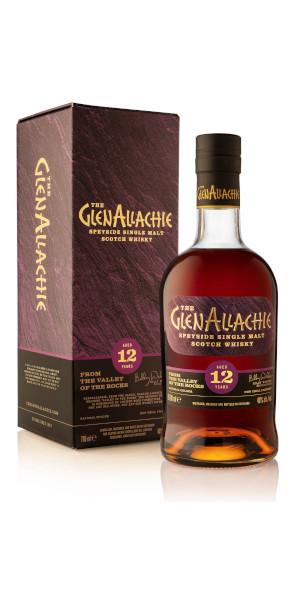 You may also like...